We love simple dishes like this that are healthy for weight loss and also don't need too many ingredients.
When you have good quality products, the flavours can shine through without too much effort.
Try serving this dish with some steamed carrots, green beans or asparagus; and some baked sweet potato or pumpkin.
If you don't have grainy mustard, you could also try Dijon or a medium-strength yellow mustard. Failing all of that, sprinkle with a little curry powder.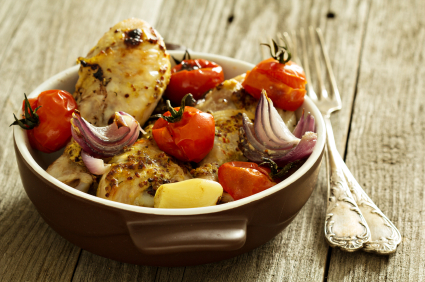 You can also bake a whole chicken in this way. Just adjust the cooking time to 90 mins on 180C.
Ingredients:
8 chicken pieces – thighs, breasts cut in half, drumsticks
1 punnet cherry tomatoes
1 red onion, chopped into eight pieces
4 cloves of garlic, whole, peeled
Juice and zest of ½ a lemon
3 tbsp grainy mustard
3 sprigs fresh thyme leaves (or use 1 tsp dried)
Salt and pepper, to taste
Method:
Preheat the oven to 190C.
Place the chicken, tomatoes, onion and garlic into an ovenproof dish and squeeze over the lemon juice.
Use a spoon to spread the mustard over the chicken pieces.
Grate the lemon zest over the top, add the thyme leaves, and season with salt and pepper.
Bake in the oven until cooked through and tender. This will take up to 30 minutes depending on the size of the chicken pieces.
Serves: 4. Calories per serve: 220 based on using chicken thighs.

GET YOUR 10% DISCOUNT
If you are ready to lose weight then the Lose Baby Weight plans offer a healthy and safe exercise and diet routine and you can get a 10% discount by using code LOYALTY at the checkout
PLUS our BEST SELLING 28 Day Diet & Exercise Plan is available as a 200pg Printed Book and you can get your copy here 
Plus our NEW CALORIE BIBLE is now available – get your copy today! Only $19.95 and a must have in your handbag!
Click HERE to see our shop