Here is a delicious healthy eating vegetarian meal option that makes the most of delicate Asian flavours.
When you are trying to lose pregnancy weight, much of the popular Asian food might not seem like a great option. There is always a way around this though – make it yourself!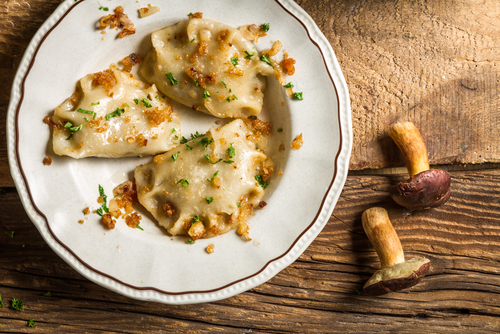 By frying the bottoms and steaming the tops of these dumplings, you get the enjoy the crunchiness and softness of a traditional dumpling with very little oil used.
Ingredients:
2 tbsp olive oil
6 dried shitake mushrooms
300g mixed mushrooms of your choice, finely chopped
1 garlic clove, peeled and finely chopped
1 tsp freshly chopped ginger
2 green shallot onions, finely diced
1 tbsp soy sauce
1 tbsp oyster sauce
3 tbsp freshly chopped parsley leaves
20 gow gee dumpling wrappers (available at most supermarkets)
Method:
Rehydrate the shitake mushrooms by covering them in boiling water and setting aside for 30 minutes. Remove from the water and finely chop.
In a frying pan, heat 1 tbsp of oil over med/high heat.
Pop in the garlic and ginger and stir for 30 seconds.
Add the mushrooms, soy sauce, and oyster sauce. Cook for 2-3 minutes.
Add the shallots and parsley, stir fry for 30 seconds and then remove from the heat.
Set aside to cool so that you can comfortably handle the mix.
Lay out your wrappers and place 1 teaspoon of the mushroom mix into the centre of each wrapper.
Wet your finger tips and brush the edges of the dumpling with water. Fold the pastry in half and press the dumpling closed with your fingers.
Repeat with the remaining wrappers, keeping aside about ¼ cup of mixture for serving.
Heat the other tbsp of oil in a large frying pan.
Place the dumplings, flat side down, into the pan and cook for around a minute or until the bottom is golden.
Also add the extra mixture to the pan and fry this off too, then set aside.
Add ¼ cup boiling water to the frying pan and cover with a lid to steam the dumplings.
Turn down the heat and allow to steam for 3 minutes or until the water has all evaporated.
Serve with the extra fried mixture on top.
Makes: 20 dumplings. Calories per dumpling: 44.
Easter is nearly here and if you are worried about sugar & calorie overload this Easter then NEVER FEAR – the Healthy Mummy is here!
And this April – straight after Easter, we are running our 28 Day Weight Loss Challenge SUGAR DETOX SPECIAL
Designed to help you detox from Sugar and lose weight
Get your FREE Sugar Detox recipe sampler below and see why detoxing from sugar – plus losing weight – has never been easier