Hi, I'm Sam – mother of two energetic children, aged 5 and 8. I have been struggling with my weight for as long as I can remember. I tried everything out there, however nothing seemed to work. I had nearly given up when I stumbled across The Healthy Mummy 28 Day weight loss Challenge.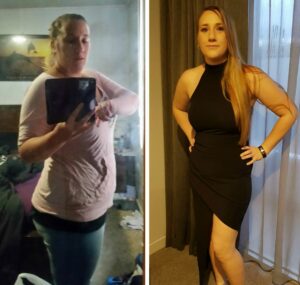 I looked at it for many weeks and decided to join The Healthy Mummy Support Group on Facebook. I loved watching and reading all about all the amazing mums who have changed their life and their family's lives. I thought "what do I have to lose? Nothing! Besides weight…….."
I wanted to sign up not just for my health, but to be a more active and productive mother for my kids.
I joined the 28 Day weight loss Challenge in December last year (2015) and I fell in love with it. The exercises are easy enough to do at home and the recipes are amazing. Even my kids and partner love them! I started back at work full time in February this year and it was still so easy to fit the challenge in.
I have now lost over 20kgs and have never felt so great despite the fact that I'm eating plenty of  yummy food, unlike my previous attempts on the other diets I have tried.
I'm now under my pre-baby weight, which I never thought I could ever possibly be, and it's all thanks to the 28 Day weight loss Challenge, the support of the other wonderful Healthy Mummies and of course my loving family and friends.
I still have 5kgs to go and I can't wait to kick them in the butt and never look back!