Motivating Mum Jess MacCallum has lost over an incredible 21kgs with Lose Baby Weight and shares how she keeps active during the day.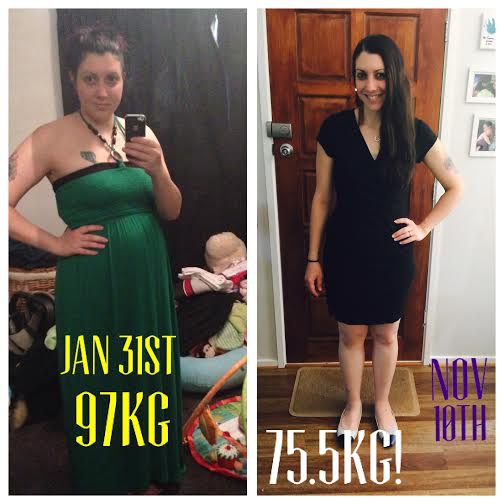 Hi mums! So we're halfway through November and I hope you're all having a positive month! It can be hard to keep up with your exercise routine when the weather is warming up and some days it might feel too hot to get outside and go for that power walk. Days like those are perfect for popping the Healthy Mummy Post Pregnancy DVD into the player and getting your work out on! I know I've done that a lot lately, and it's helped keep me on track!
So I'm at the 'last 5kg stage', and it's definitely trickier, but my motivation levels are high and I'm feeling positive. At the beginning of November I weighed 76kg, and as of today (Nov 10th) I weigh 75.5kg. Not as much weight loss as I was hoping for but I am happy with my progress, and will continue to persevere. This month so far I have been keeping up my regular daily or every second daily exercising; 3km jog or long walk (usually between 5.5km-6.5km, and with my daughter in her pram), Healthy Mummy DVD, weight lifting and PT sessions. 
I also found myself squeezing in little bits of exercise whenever I was doing the usual household chores. Boiling eggs – 50 squats and 10 push ups. Waiting for the kettle to boil – 10 push ups. Whenever I can I fit these mini work outs in, as I truly believe that every little bit of effort makes a difference! I'd love to hear about what other mini work outs mums do when doing certain chores! Please feel free to forward me your suggestions! 
For the rest of November I would like to amp up my cardio workouts. I am aiming to replace my walks with jogs, increasing my fitness levels and working on losing the next 500gm. I am going to try to do at least 2x Post Pregnancy DVD sessions a day, either back to back or one in the morning and one at night. I will also be focusing my toning work out on my torso and waist, to try to reduce that area, as I feel like that's where I need the most work these days!
I also want to give myself little personal challenges, such as cutting out chocolate for a week, or making sure I drink 8 cups of water a day! Little realistic challenges that will help give me control of my mind and body, and make me feel good about all of my efforts! It's such a great feeling when you successfully complete a challenge, and when it's a challenge you've set for yourself, the rewarding feeling can be amazing and keep you motivated for longer!
To all the mums out there; be kind to yourselves, keep going, be proud of your efforts and think positively when you look in that mirror – because anything and everything is possible, and you have the power to do it! And I fully believe you can. Stay strong, keep smiling, eat your veggies and have a great November! 🙂
Jess MacCallum
Need to stock up on Healthy Mummy Smoothies? Then see our shop here
And join our 28 Day Weight Loss Challenges here