Motivating Mum Carly Williamson has lost over an amazing 12kgs with Lose Baby Weight and shares how she does all her exercise at home.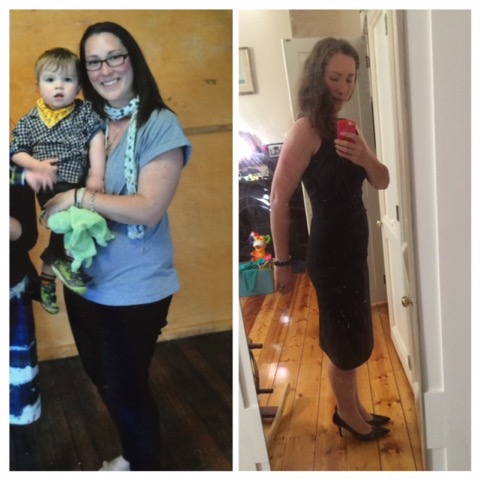 Hi Healthy Mummy's.  My name is Carly Williamson, I am a Motivating Mum for November and I am a Mum to 4.9 year old and a 2.9-year-old boys. It is a such exciting month with the new and customisable 28 Day November Challenge now under way. I've lost over 12kg on the Healthy Mummy and Lose Baby Weight plans.
I know there are Mums that do their exercises at home, just like me. Everyone is at different stages with their children. I know how hard it is have a bub, ladies… just fit it in where and when you can, make things work for you. Mummy's that get up early in the morning… hats off to you. My youngest isn't a good sleeper so this is not possible for me. My children are a little older and I wanted to write about how I get my exercises done at home.
All of my exercise is done either at home with the 28-Day Healthy Mummy Challenges, in front of the television with the Healthy Mummy DVD, incidental exercise around the house or out walking with my little guy in the pram. Doing 90% of your exercise at home isn't easy. It is easy to be distracted, phone calls, door bells, children having a crisis of some description (yesterday my youngest stole my oldest child's imaginary trophy and broke it – yes it happened). These make things difficult but I would love to pass on a few things I have learnt over the last few months.
Your children will annoy you. They are children, it is their job. Your children need to constantly see you exercising for two reasons. 1) So you become a great role model for living a healthy lifestyle and 2) So they get used to you doing your exercises. When I first started, they had tantrums and fought, climbed on me, threw toys at me, and my youngest urinated on the floor and would try and get in my way while doing the DVD.  You name it, I've seen it… All for attention. I used to growl, get upset and frustrated and then stop exercising thinking this is all too hard.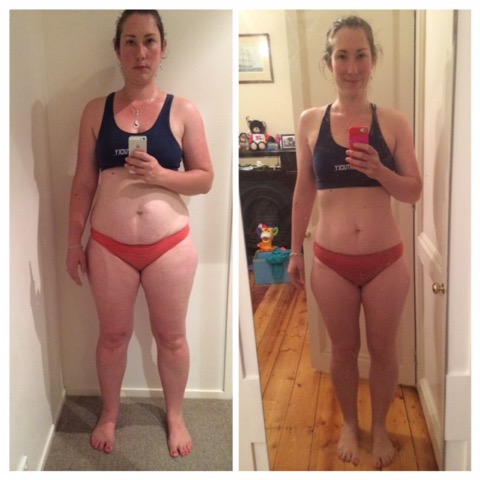 Then I changed my tact. I sat down with my boys and I told them why I was exercising. I told them that it was my turn to look after myself so I could be a better Mummy and I wanted to live a long and healthy life. I told them that I really needed to concentrate and that most things other than injuries could wait until I was done. If they needed me I would help them during the breaks in the exercises. They could join in with me, or watch or go and play, it was up to them but I would not stop until I was ready and I was finished. This took a few sessions before they realised I was serious. That was months ago. Now, I'm lucky if they look sideways at me while I do star jumps looking more like a lady trying to put out imaginary fires on her outer thighs!
Organisation is the key to my success. If I am organised with my food for the day, I am set. If I am organised with my kids, I am sorted. The Healthy Mummy Smoothies have helped me so much to accomplish this. My little man is chronically sick and as much as I try to organise my food after a night of no sleep, I just cannot be bothered making my breakfast, so I throw a smoothie together, energy boost achieved and I move on with my day.
Exercising at home is a little different. There is no peace and quiet and normally no one there to make you adhere to a schedule or timeframe. So, to get my exercise done at home with the kids around I prepare things the night before. Previously, I tried to do exercise in another room from them and it did not work for me. If it works for you then go with what works. My kids just annoyed me more. If I am in the same room I can answer a simple question without an issue. To do this I set up my space the night before. Put my exercise mat out. Then I set up their activities. Drawing on a small table, Duplo on a mat, puzzles on the floor. I also save fun activities for days I really need to get things done. Warm days, it is bubbles outside and I do my exercises outside. I have found if I accept my job as a Mum while I still exercise I can do both: and do them well.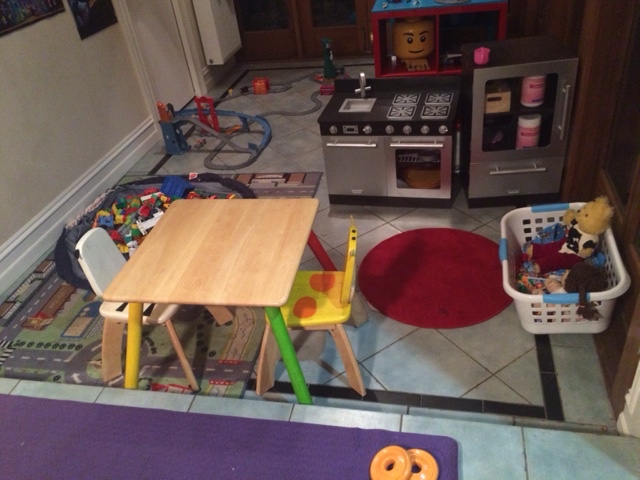 Right before I start exercising I do a few things to get ready. I take my 2 year old to the toilet. I remind my 4 year old to go to the toilet.  Then, I found one of my magic tricks; I get their food ready whether it is breakfast, morning tea, lunch… it doesn't matter what time but I get them a separate plate or bowl of varied foods. This does two things; keeps them occupied for 10 minutes and also stops them asking me for food. I fill their water bottles up and place it next to their individual bowls of food. Last but not least, I ask if there is anything they need, as I will be exercising shortly. I fix any last issues and then begin.
I have found that by fixing any issues before they come to a head, I can eliminate any reason for my two gorgeous children to turn into the devil incarnate. If I am interrupted during my exercise I tell them how long I have left until I can resolve the issue. Now rather than growling, I can tell my 2 year old that I love his drawing in between breaks or tell my 4 year old that is Lego building is the biggest I've ever seen, all without the massive melt downs and my exercise gets done.
Carly Williamson
Need to stock up on Healthy Mummy Smoothies? Then see our shop here
And join our 28 Day Weight Loss Challenges here