My name is Brooke and I am one of the Motivating Mums for the Losing Big Numbers Facebook group this August. I have only been using the healthy mummy products for 2 months now but I have seen some amazing results. I started at 97kg and currently sitting at 86kg with a total loss of 12 inches off my entire body, which I am very happy about.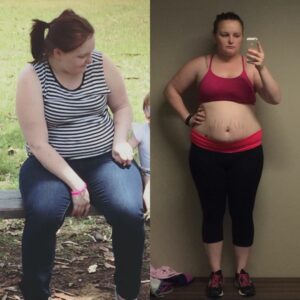 I have achieved this weight loss by using the free Healthy Mummy recipes, Healthy Mummy cookbooks and the Healthy Mummy Smoothies for 8 weeks. I was working out and pushing my exercise to the next level. No more rest days for this mumma! On rest days I now push myself to walk at least 3km.
I have 1 smoothie a for breakfast 6 days a week and on Sunday I have a meal from the healthy mummy cookbooks. My family love the meals and I am pretty lucky that my 19 month old isn't fussy at all and will literally eat anything (except celery lol).
I like to keep myself accountable by writing myself a list of what on what I'm eating and how much I am exercising for the week on my weekly planner and ticking it off once it's done. My main goal for August is to use my new gym membership to the fullest extent and workout at least 3 times a week. I want to loose at least 5kg in August by working hard and eating right.
I used to be an extremely fussy eater and ate no fruit or vegetables except potato, watermelon, avocado and sweet potato. This Healthy Mummy journey has shown me that I actually like apples, cauliflower, parsnip, kale and pumpkin just to name a few. I now like to pack veggies into every meal that I make. I think my families favourite meal so far has been the healthy mac and cheese, our freezer is full of it. I love to cook in bulk and freeze all
left overs for when I don't particularly feel like cooking or when I don't have time to stand in the kitchen for a long period of time.
I still have 20kg or more to go and I will be pushing myself to get there by my wedding which is coming up in November. I am so excited to be a Motivating Mum and to help you ladies achieve some amazing goals this August. Lets be positive, active and supportive of each other and lets kick winters butt together.
Lets go TEAM HEALTHY MUMMY!