Wow I can't believe we are already halfway through the August 28 Day Weight Loss Challenge! How amazing has it been?
For those who don't know me very well I have been following the Challenge since they first began in June 2014, and has it come a LONG way! The best part being the introduction of the Challenge App this year.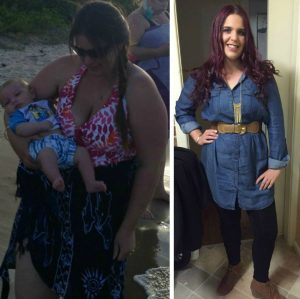 Before the app, I was constantly stealing my 10 year old's iPad to follow dinner recipes and do my challenge exercises. This led to a few arguments and compromises because she would be either in the middle of a game or watching a movie.
I love how I can do my challenge exercises anywhere using my phone without having to disturb my children and have some peace to get them done (well mostly).
I don't know about you, but since becoming a mum I have become quite forgetful. No matter how organised I am with meal planning and writing up my shopping list, there has been numerous times I have arrived at the grocery store only to realise I have forgotten my shopping list. We all know how this shop usually ends up! Forgetting a dozen things on our list and picking up items we really don't need.
Thankfully the app now has my forgetfulness covered with the shopping list at my fingertips! I can't count how many times it has made a forgetful day much easier and less stressful. I can now tick off the items as I go and no longer need to try and remember what I did and didn't need on my grocery list.
I honestly would have to say the app has been such an amazing part of the Challenge for me and now that I am used to it, I find it so easy to navigate around and much easier to stay on track!
Keep going and stay strong!