Over the coming weeks we will be bringing you a number of new reviews from leading Midwives who have been testing, reviewing and using our Healthy Mummy range of products.
As well as testing our products, the Midwives have been kind enough to give us their professional opinion of our range for other mums to read. If you are a midwife reading this and would also like to take part in this review, please email us on [email protected]
The below review is from Sallee Dwyer, who is an extremely experienced Midwife and also runs the successful Company Midwife To Mum – Sallee says "I would highly recommend this program for busy mums who have the goal of healthy living". Read Sallee's full review below
Midwife Sallee Dwyer Reviews The Healthy Mummy & Lose Baby Weight Plans
Sallee Dwyer (Midwife/RN; Director of Midwife to Mum)
Registered Nurse since 2001 (Wollongong University)
Registered Midwife since 2003 (UTS)
Diploma of Health Counselling 2007 (Sydney University)
Masters of Midwifery (UTS)
Involved in antenatal education, hospital visits and follow up home visits
Delivery suite midwife in a southern Sydney hospital
Previous experience at Whispers Cottage, teaching antenatal classes and parenthood education
Background
I have been a midwife for over 10 years, and earlier this year I had the privilege of becoming a mummy for the first time.  Throughout my pregnancy, I tried to maintain a healthy diet and a balanced approach to life.
At the beginning of my pregnancy, I'd have the occasional sweet treat. I found as the baby grew (and I grew) I craved Coca Cola and cinnamon scrolls.
My obstetrician doesn't encourage woman to weigh themselves during pregnancy as he said is may cause more 'anxiety than good' and woman either worry they have put on too much weight or not enough.
I followed his advice and didn't weigh myself the entire the pregnancy.  You can imagine my shock when I jumped on the scales 2 weeks after Jack was born to see the scales starring back at me declaring I had gained 18kg.  To be honest I thought I had only had 10kg to loose but the scales told me otherwise.  I quickly realised that all the coke and sugar had become a permanent resident on my butt, hips and thighs and I needed to do something about it.
The Lose Baby Weight Plan
I loved the approach of 'Healthy Mummy' towards weight loss and exercise. The Lose Baby Weight plans suggested are realistic, balanced, well researched, achievable and most importantly sustainable.
The website and encouraging daily emails are wonderful. They provide much needed and timely encouragement and education to mums in relation to healthy eating and other ways to keep the weight off.
As a new mum, I had so much happening in my life the last thing I wanted was another diet.  I was feeling tired, a combination of the effects of a newborn and some of it was the extra weight I needed to shed.   Many of the mums that I work with are looking for a lifestyle change and a healthy eating program that is simple – not where they will be left hungry or take ages to prepare.  The 28-day plan is a great way to kick-start and the recipes are healthy, colourful and easy to prepare.
The Healthy Mummy Smoothies

I have purchased a variety of weight loss shakes in the past and to be honest I am not a fan.  I reluctantly purchased the program with the shakes wanting to give myself the best opportunity to loose the weight.
I was pleasantly surprised with the shakes and how delicious they are.  I tried strawberry and chocolate and both tasted really good, much different to my previous experiences with other brands.  The shakes contain a multitude of ingredients and I found that they were a great breakfast or afternoon snack when I needed a boost.  The shakes are helpful for mums that are on the go, breastfeeding and they complement a balanced diet.
The Post Pregnancy Exercise DVD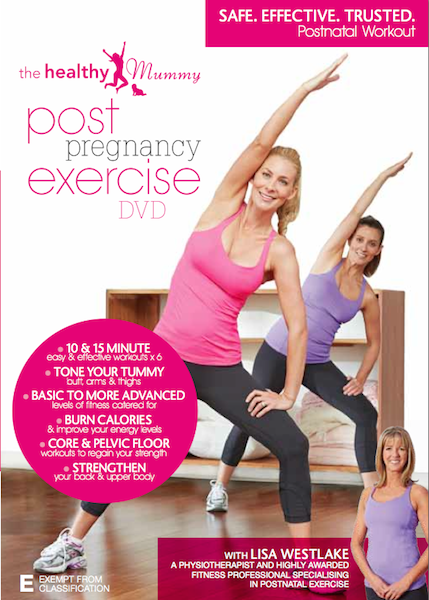 With a baby it was tricky to find the time to exercise.  The benefits of exercise both physically, mentally and emotionally are well known and very important.  The 'Post pregnancy exercise DVD' was perfect.
The sessions run for approx 10-15minutes which is achievable and you can exercise in the privacy of your home. I have found the DVD has assisted in gaining more energy, feeling more toned and loosing weight. If you have any underlying health problems then always consult your health care professional first.
You can preview the DVD here
The 28 Day Diet & Exercise Plan

The book is simple yet effective, with the eating plan specifically designed to cater for mums.  As a new mum, eating well may assist in the increase production of breast milk. All the recipes are breastfeeding friendly.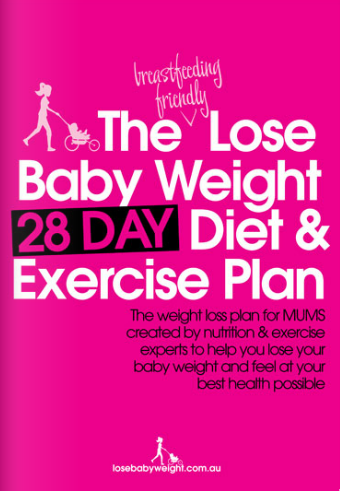 This book covers what to eat week by week, exercise plans, how much protein you should be consuming according to your weight, the weekly shopping lists, tips on how to maintain your weight loss and the pictures of the food are delicious.
I have a weakness to the dark chocolate bites.  I always try to have a pack in my handbag for the moments I wanted a treat but the smaller sized packs were great for portion control.  I felt satisfied that I had my treat but not sick from overindulging.  I felt I had the best of both worlds, eating balanced and healthy but not depriving myself when I felt like some chocolate.
In summary, in my view – this approach works.  I have 4kg of weight to loose before I reach my pre-pregnancy weight.  I feel I have more energy and am more aware of the foods I am eating.
As a midwife I would highly recommend this program for busy mums who have the goal of healthy living.  It is a complete holistic approach to health and well being without being extreme.
You can preview the 28 Day Plan here
To see our full range of Healthy Mummy products & plans please visit our shop here
You can also see more reviews from midwives here