Pasta bakes are an easy, family-friendly dinner option to include in your healthy eating plan that will please fussy eaters and hungry partners.
This recipe for a Mediterranean Pasta Bake uses wholemeal pasta, which is better for you than the white variety as it contains more fibre and is less processed than the white variety, making it a good option for when you're trying to lose pregnancy weight.
Filled with nutritious vegetables, herbs and garlic, this pasta bake is a good way to sneak vegetables onto the plates of fussy eaters.
This recipe can be customised to include your favourite vegetables or whatever you need to use in the crisper with spinach, eggplant, onion, corn, chopped tomatoes and chickpeas or other legumes all good options to be included in the mix.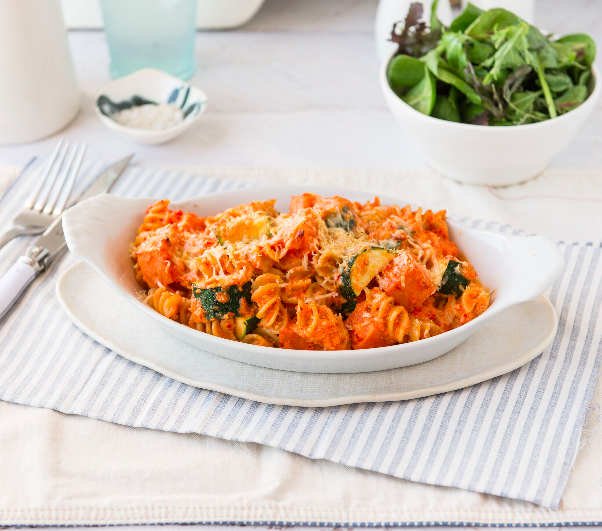 Ingredients:
400 grams wholemeal penne pasta
1 tablespoon olive oil
450 ml tomato passata or tomato pasta sauce
50 grams reduced fat feta cheese, cut into cubes
20 grams parmesan cheese, grated finely
1 large zucchini, sliced
1 brown onion, diced
1 red capsicum, deseeded and sliced
10 green, pitted olives, cut in half
A few sprigs of fresh flat leaf parsley, chopped
2 cloves garlic, crushed
10 button mushrooms, sliced
Cracked pepper
Optional Extras: 
Add half a chopped chorizo for some added spice
Add a handful of baby spinach to the pasta before baking
Add some sliced chill or chill flakes for added heat
Method:
Preheat an oven to 180 degrees Celsius
Bring a large pot of water to boil and cook the pasta according to the instructions on the packet (should take about 11 minutes)
While the pasta is cooking, heat the olive oil in a saucepan and saute the garlic and onion for a few minutes until the garlic is fragrant and the onion becomes clear and slightly brown.
Add the passata or tomato pasta sauce to the onion and garlic and cook for 5-7 minutes, then remove from the heat.
Once the pasta has been cooked, strain in a colander and return to the large saucepan.
Mix the garlic, onion and passata mixture through the pasta, and add the capsicum, zucchini, mushrooms, olives and chopped parsley also.
Take the pasta, vegetable and sauce mixture and place into a large baking dish.
Top with the cubes of feta and bake in the oven for 15 minutes until the top becomes crispy and the feta golden brown.
Remove from the oven once cooked, and top with cracked pepper and parmesan and serve.
Serves: 4. Calories per serve: 385