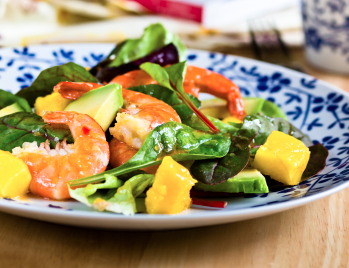 Fish and shellfish are all low in calories and fat and high in protein, making them one of the best food choices for general health and for when you are trying to lose your pregnancy weight on the Lose Baby Weight Plans.
Packed with plenty of vitamins, minerals and nutrients, fish – and in particular, oily fish – is one of the healthiest foods that you can eat. Regularly eating foods that contain lots of vitamins and minerals can improve your general health, and in particular, your digestive health.
The stronger your digestive system, the more vitamins and nutrients you can take in – boosting health and wellbeing.
Fish also contains lots of omega-3 fatty acids, which are essential nutrients for health, looking after everything from your heart to your brain to your eyes. Omega-3 fatty acids can also reduce your levels of cholesterol, reducing your risk of associated diseases such as heart disease, while also improving your levels of food cholesterol, boosting health.
Because fish is also high in protein, low in calories and low in fat, it is a great food to include in any diet. Foods that are high in protein require twice as many calories to process, meaning that eating plenty of protein will actually boost the amount of calories you burn off, helping you to lose weight.
We've come up with a deliciously summery recipe, perfect for serving at a BBQ, to help you make the most of this yummy weight loss ingredient – and we have used prawns – but you can use any fish that you like.
Mango and Prawn Salad
Ingredients
200g tiger prawns, head removed, deveined
150g baby spinach leaves
1 small bunch salad onions
Handful of chopped fresh mint
½ red chilli
1 garlic clove
Juice of 1 ½ limes
2 tbsp. white wine vinegar
1 avocado
1 medium mango
Salt and pepper
Small handful freshly chopped coriander leaves
Cooking spray
Directions
Heat cooking spray in a frying pan. Season the prawns with salt and pepper, add to the pan and fry until pink and opaque.
Meanwhile, thinly slice the salad onions on the diagonal. Slice the chilli in half and remove the seeds with the back of your knife, then finely dice. Mince the garlic clove. Slice the avocado in half around the stone, twist to halve and then remove the stone with your knife. Use a teaspoon to scoop out chunks of the flesh.
Remove the seeds from the melon and remove the skin. Dice.
Mix together the salad onions, chilli, garlic, lime juice, white wine vinegar, salt and pepper in a large bowl. Cover and leave to sit for at least half an hour.
Stir in the prawns, mango, coriander and avocado just before serving. Serve over baby spinach leaves.
Recipe serves 4. Calories per serving: 210. Add some cooked noodles if desired.
GET YOUR 10% DISCOUNT
If you are ready to lose weight then the Lose Baby Weight plans offer a healthy and safe exercise and diet routine and you can get a 10% discount by using code LOYALTY at the checkout
PLUS our BEST SELLING 28 Day Diet & Exercise Plan is available as a 200pg Printed Book and you can get your copy here 
Plus our NEW CALORIE BIBLE is now available – get your copy today! Only $19.95 and a must have in your handbag!
Plus don't forget to sign up for our Get Ready For Summer Challenge – it's free and you can sign up here.
Click HERE to see our shop