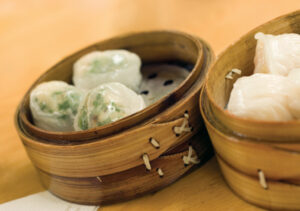 It's got 'yum' in the name for a good reason – and yum cha doesn't have to be an unhealthy meal, so long as you make healthy choices and don't eat too much.
Yum Cha is a traditional Chinese meal, normally served in the morning/lunchtime.
It comprises many different dishes served to the table to share.
The actual words mean to drink tea, but it has come to mean a variety of food such as dumplings, wontons, buns and noodles that are chosen from a menu or food trolley.
There's something about this style of food that makes us overeat. It could be the sharing with friends and family; the free tea that is said to help you digest your food quicker; the lovely ladies strolling around with their trolleys full of delicious morsels.
Perhaps it's a combination of all of these things. Either way, enjoy yourself but go there armed with the knowledge of the fat, calories and salt content so that you can make the best choices.
Rice paper rolls, grilled meats, freshly steamed greens, steamed wontons and steamed dumplings are the best choices.
As a general guideline:
Go for steamed dumplings or wontons, not deep fried
Choose fresh rice paper rolls, not spring rolls
Order the grilled calamari, rather than deep fried
Choose more tea or dumplings rather than dessert as they tend to be heavy on the sugar and fat content.
Avoid anything deep fried such as prawn crackers, crispy noodles and fried rice.
You may be surprised to read the nutritional information for something as simple as a spring roll. Hold onto your hats – one large 170g roll has a whopping 26.7g fat, 495 calories, 6.3g sugar and an astonishing 1,666mg sodium.
When you compare this to a fresh rice paper roll, you will see why it is the better choice. One 70g prawn rice paper roll has just 0.4g fat, 65 calories, 119mg sodium and 0.2g sugar.
See nutritional notes below for more info.
Pork bun 100g
4.6g fat
230 cals
350mg sodium
9.5g sugar
Dumpling, steamed 50g
4.1g fat
106 cals
285mg sodium
1.7g sugar
Prawn Crackers, deep fried 25g
6.6g fat
130 cals
175mg sodium
1.4g sugar
Pork Wonton, steamed 30g
2.4g fat
61 cals
39mg sodium
1.1g sugar
Fried Rice, 1 cup
13g fat
337 cals
762mg sodium
0.7g sugar
Chicken Chow Mein, 1 cup
22.1g fat
336 cals
575mg sodium
0.9g sugar
(Source: www.calorieking.com.au)

GET YOUR 10% DISCOUNT
If you are ready to lose weight then the Lose Baby Weight plans offer a healthy and safe exercise and diet routine and you can get a 10% discount by using code LOYALTY at the checkout
PLUS our BEST SELLING 28 Day Diet & Exercise Plan has now launched as an 84pg Printed Book and you can get your copy here – with free express postage if you order the book on its own
Click HERE to see our shop