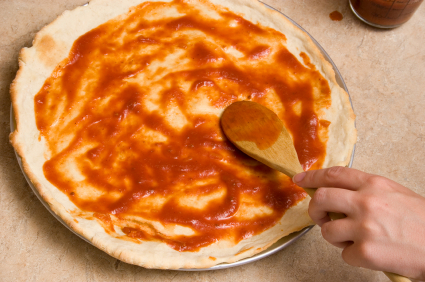 There's no need for leftovers to sit forlornly in the fridge. Not when you can turn them into a fantastic meal in next to no time!
We love making healthy pizzas and there's a whole world of flavour waiting for you when you start getting creative with the toppings.
If you haven't already tried our 2 ingredient pizza dough – you're in for a treat.
Then just grab whatever leftovers you have on hand (see below for some ideas) and then get ready for smiles all round the dinner table.
And with no oil needed for the dough, it's also a great way to enjoy a favourite food like pizza while you are on a weight loss plan.
Ingredients:
1 cup self raising flour (try to use wholemeal)
1 cup Greek or natural yoghurt
Method:
Combine the two ingredients in a bowl and bring together using your hands.
Knead on a floured tabletop for 5 minutes.
Divide into 2 and then roll out to your desired shape (make it a rectangle if you are using baking trays, or circles if you have a pizza stone).
Now you are ready to customise your pizzas!
First of all, heat your oven to 180C.
Makes: 2 pizzas. Calories per ¼ of a pizza: 219.
Calories with toppings will depend on the calories in your leftovers.
Cooking times will also depend on your toppings, so best to keep an eye out and remove the pizza when the crusts are golden and the cheese has browned.
Leftover 1: Bolognese
This one is simple – there is already so much flavour in the saucy leftovers that you don't need to do too much.
Simply pour around ½ a cup of leftover Bolognese onto each pizza. You don't want the topping to be too thick or heavy or the pizza won't cook through underneath.
Top with ¼ cup low fat grated cheddar and pop in the oven to cook until golden.
Leftover 2: Roast Chicken and Veggies
Had a roast last night? Perfect!
Simply begin by spreading out 2 tablespoons of tomato paste onto each pizza.
Chop your chicken and vegetables into small chunks and sprinkle over the pizza. Add some fresh basil leaves if you have some.
Crumble over ¼ cup low fat feta and then drizzle with a tablespoon of olive oil.
Place in the oven and cook until golden brown.
Leftover 3: Grilled Steak or Sausages
After a BBQ it's not terribly enticing to nibble on yesterday's cold meat. It will be if you turn it into a pizza!
Place 2 tablespoons of tomato paste onto each pizza and spread evenly to coat.
Chop your snags or steak into small pieces and sprinkle over the pizza.
Finely chop a red capsicum and 2 mushrooms and add these to the pizza too.
Sprinkle over 4 tbsp finely grated Parmesan, followed by 4 tbsp grated low fat cheddar.
Bake until golden brown.

Need to stock up on Healthy Mummy Smoothies? Then see our shop here
And join our 28 Day Weight Loss Challenges here