We LOVE fudge and we love it even more when our healthy mummy recipe team come up with a healthy recipe for it! Prepare in advance for a sweet snack on the run to help you to lose weight fast
And this one is from the 28 Day Weight Loss Challenge and is super easy and tasty! If you are new here you can learn all about the 28 Day Challenges here
This recipe makes 6 serves so store leftovers in an airtight container in the freezer.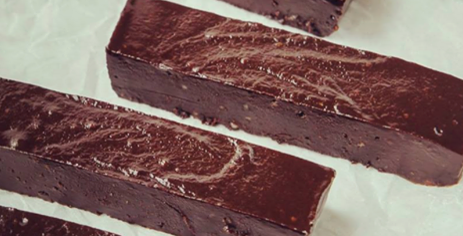 Ingredients (Makes 6 serves)
200 grams of tinned chickpeas, drained
1/2 banana (45 grams)
1 tablespoon cacao/cocoa powder (8 grams)
1 teaspoon vanilla extract (5 mls)
1 tablespoon peanut butter (16 grams)
1 tablespoon coconut oil (20 mls)
20 grams of dark chocolate (70%)
cooking oil spray
Method
Rinse and drain chickpeas and place in a food processor with the banana, cocoa/cacao powder and vanilla. Blitz on high until well combined and smooth.
In a microwave-safe bowl, place peanut butter, coconut oil and chocolate. Microwave on high, checking after every 30 seconds, until melted.
Pour melted chocolate mixture into the food processor with the chickpea mix and blitz on high until well combined, scraping down the sides as needed.
Line a slice tin or shallow cake pan with cling wrap (spraying the inside of the cake tin with cooking oil spray will help the cling wrap stick and stay in place when laid over the top).
Spoon the fudge mixture into the lined tin and smooth out. Completely cover the fudge mixture with cling wrap and place in the freezer for 4-5 hours before removing, unwrapping, slicing into 6 pieces and serving.
1 piece is 1 serve. Store leftovers in the freezer.