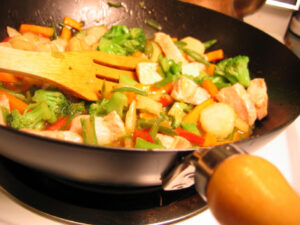 We all know how important it is to keep an eye on how much sugar we are consuming, especially when trying to lose weight and eat healthily.
While the majority of us put things like biscuits, cakes and other sugary snacks on the 'occasional treats' list, the sugars in foods we otherwise think of as healthy can be harder to detect.
The problem with these 'hidden sugars' is that they seem to pop up in the least likely places (baked beans and tomato sauce to name a couple). Even bread and certain types of milk and yoghurt can have a vastly varied sugar content, which can potentially turn what seemed like a healthy, low calorie meal into something less nutritious than first thought. 
Packaged foods are some of the biggest culprits when it comes to hidden sugars, with bottled sauces and marinades packing a substantial sugary punch. This can be problematic when it comes to whipping up a stir fry as it limits your options considerably. With their lean meat and crisp veggies, a stir fry is a fantastic, weight loss friendly lunch or dinner, providing you take note of the sauce you use to coat those yummy ingredients.
If you're going to buy a bottled sauce, it pays to check out the nutrition information panel on the back of the bottle. It's best to check out the per 100g or 100ml column as it allows you to see the bigger picture. Current guidelines suggest that you look for foods with less than 12g/10ml of sugar per 100g/100ml. When trying to lose weight and follow a healthy eating plan, looking for options with less than 12g/10ml can be beneficial
Alternatively, making your own stir fry sauce allows you to control exactly what goes in (and what stays out!). This chicken stir fry uses simple ingredients like garlic, lemon juice, sesame oil and lemon grass that are not only very low (or free from sugar) but taste delicious when combined. The majority of ingredients are general pantry staples which makes this dish an excellent option for nights when the fridge and pantry is almost bare.
I made this last night with the veggies I had floating around in my crisper and freezer (carrots, broccoli and capsicum), but feel free to add your own. I also marinated the chicken for a few hours before cooking to deepen the flavours although if you're short of time, this isn't necessary, just skip the first step and cut the extra ingredients used to marinate. The best thing about a stir fry is being able to add your own ingredients to the mix, without changing the taste or flavour.
Enjoy!
Ingredients
500g chicken breast, diced

2 cups of veggies, cut into similar sized pieces (I used carrots, broccoli and capsicum)

1/2 red onion, diced
2 cloves of garlic, crushed
juice of 1 lemon
2 tsp sesame oil
2 tbsp peanut or other oil with a high smoke point
1 stem of lemongrass, peeled and finely chopped
1/2 cup blanched almonds
steamed basmati or brown rice to serve
Directions
Place chicken, 1 clove of crushed garlic and half the lemon juice in a zip lock bag to marinate.

When ready to start cooking, heat 1/2 tbsp peanut or other oil over a medium heat.

Add the almonds and toss to coat in oil.

Cook till golden then remove from the pan and set aside.

Add 1 tbsp oil to the pan and add the chicken.

Cook, stirring constantly, till chicken is sealed and cooked through.

Remove chicken from pan and set aside.

Add the final 1/2 tbsp oil to the pan along with the remaining garlic clove, onion and vegetables.

Cook for 2-4 minutes or until veggies have began to soften.

Return almonds and chicken to the pan and toss with the vegetables.

Drizzle the sesame oil and remaining lemon juice over the meat and vegetables and toss well.

Serve while hot with steamed rice.
Makes 4 servings – Cal per serve 280