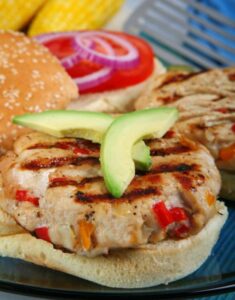 You can't go past a burger for an easy lunch or dinner. Not only are they quick and easy to make, they'll generally appeal to the whole family, husbands and children included.
When trying to lose weight or follow a healthy eating plan, it's common to avoid things like burgers due to their high calorie, high fat reputation.
It's easy to think of a burger simply as a processed patty of less than trim meat, thrown between the halves of a white bread roll and smeared with salty sauce.
This doesn't need to be the case! The components of the humble burger have the potential to be delicious AND healthy.
You've just gotta put the right stuff between your (wholegrain) bun halves!
Turkey is often neglected in the meat stakes, in favour of things like beef, lamb and chicken. Bringing back the bird though is a great option for those trying to lose weight as it's exceptionally high in protein and low in fat.
Stick to lean cuts or try replacing your normal beef or chicken mince with the turkey variety and you're onto a winner.
These burgers combine lean turkey mince with fresh salad leaves and a tasty, low fat coleslaw, made with greek yoghurt. It's a delicious combination and one that's sure to be a hit with the family.
Ingredients
500g lean turkey mince
1/2 cup wholemeal breadcrumbs
1/2 spanish onion, diced
1 clove of garlic, crushed
1/2 small green apple, grated
1 cup green cabbage, shredded
1 cup red cabbage, shredded
1 large carrot, grated
1/2 green or red capsicum, diced
1/2 cup Greek yoghurt
1 tbsp white wine vingegar
4 wholegrain bread rolls
Vegetable oil spray
Directions
Combine mince, breadcrumbs, onion, garlic and apple in a large mixing bowl.
When well combined, shape into four burger patties.
Spray a large frypan with vegetable oil spray and heat over a high heat.
Cook each of the burger patties for approximately 5 minutes per side (this will depend on thickness of the patties).
Once cooked through, remove from pan and place on absorbent kitchen paper while you make the coleslaw.
In a large bowl, combine cabbage(s), carrot and capsicum.
Whisk together Greek yoghurt and vinegar in a measuring cup and pour over shredded veggies.
Lightly toast burger buns under a warm grill.
When buns are ready, place a scoop of coleslaw on the bottom half of the bun and top with a burger pattie and the top of the bun.
Enjoy!
Makes 4 burgers – Cal per burger – 337
If you are ready to lose weight then the Lose Baby Weight plans offer a healthy and safe exercise and diet routine that are safe in breastfeeding and can help support your milk supply.