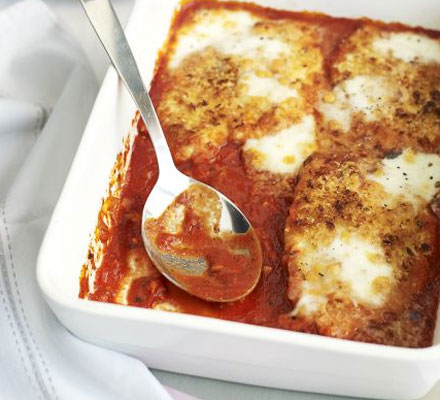 Healthy eating doesn't have to mean that you need to eat boring food or just eat lettuce!  Infact our Lose Baby Weight plans show you how you can eat tasty food and still lose weight.
Along with our Healthy Mummy Smoothies we have our 28 Day plan plus over 500 recipes on our site and have now created this TASTY Chicken Parmigiana recipe to try too!
This chicken parmigiana recipe is packed with flavour from the inside out – the chicken is rubbed with a few tbsp of low fat Italian salad dressing before being coated in crisp breadcrumbs seasoned with Italian herbs, then covered in a thick tomato and basil sauce before being finished with mozzarella and parmesan.
Serve with baked butternut squash wedges for a filling family meal.
Low Fat Chicken Parmigiana
Ingredients
4 boneless, skinless chicken breasts
½ cup wholemeal breadcrumbs
2 tbsp. low fat Italian salad dressing
1 tsp. mixed dried Italian herbs
½ tsp. each salt, garlic powder and black pepper
½ cup low fat grated mozzarella cheese
¼ cup grated low fat parmesan cheese
1 cup tomato Passata
1 small onion
Small handful freshly chopped basil
1 tbsp. tomato puree
Cooking spray
Salt and pepper + a pinch of natural sweetener
Directions
Firstly, make the tomato sauce. Dice the onion. Heat cooking spray in a saucepan and add the onion. Fry until sweet and soft, around ten minutes. Add the tomato puree and stir, cooking for 3-4 minutes. Add the Passata and stir and then simmer gently for 10 minutes or so until thick and rich. Add salt, pepper and sweetener along with the basil then remove the pan from the heat.
Place the chicken breasts between two sheets of cling or greaseproof paper. Use a rolling pin to bash the chicken until flattened. Discard the cling wrap and then rub the chicken with the Italian dressing. Leave for about 5-10 minutes.
On a flat plate, combine the breadcrumbs, Italian herbs, ½ tsp. salt, garlic powder and black pepper. Dredge the chicken breasts in the breadcrumb mixture, making sure to evenly coat them.
Heat cooking spray in a frying pan. Fry the chicken breasts for 5-7 minutes on either side until golden brown and crisp.
Place chicken breasts into an oven dish, cover with the tomato sauce and sprinkle with the mozzarella and parmesan. Place the oven dish under a hot grill for 3-4 minutes to melt the cheese and finish cooking the chicken, or alternatively bake for 5-10 minutes in a 180C oven.
Recipe serves 4. Calories per serving: 262, fat per serving: 5.9g.
And don't forget to check out our current promotions and discounts page to see what specials we have on this week on our Healthy Mummy product range