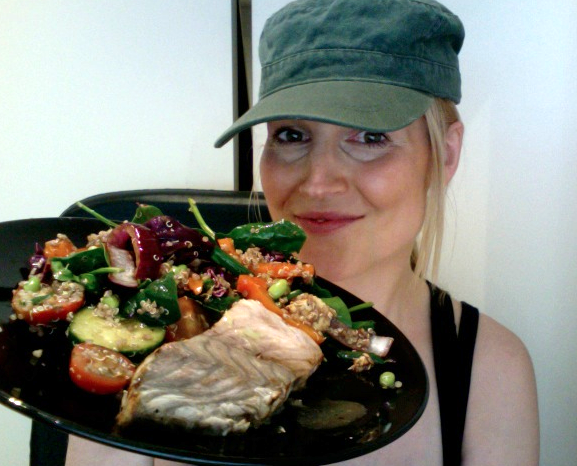 Eating healthy foods is not only good for your weight loss but it is crucial for your energy levels and overall health.
I know how hard it can be to cook healthy foods when you are a busy mum but if you take the time to buy the right foods in advance it is possible to make quick and easy healthy eating meals that will help you feel good as well as help you lose any pregnancy weight.
This is why the Lose Baby Weight team try and bring you so many healthy eating recipes to help inspire you to eat good foods when losing your pregnancy weight and also show you that healthy eating and weight loss doesn't mean you have to cut out food groups and ban carbs – which is not healthy or sustainable.
And below is a really quick and easy recipe for lime cod and quinoa salad that is easy to prepare and also makes a great lunchbox lunch if you want to make a bigger batch to use the next day.
Ingredients
1/2 cup of quinoa
Half a cucumber
1 cup of cherry tomatoes
1 red onion
1/2 red cabbage
1/2 bag of spinach leaves
1 capsicum – any colour
4 x limes
1/2 cup of chopped fresh parsley
1/6 cup of crumbled low fat feta cheese
Sea Salt and cracked black pepper
2 x tbsp of balsamic vinegar, 1 x tbsp of olive oil
1 x filet of cod or any white fish per person
Directions
Cook the Quinoa in water for approximately 10-12 minutes then set aside in a big mixing bowl. Next add all of the salad ingredients – except the red onion – all chopped up.
Then lightly fry the red onion for a couple of minutes in a pan and when cooked add to the salad. Then squeeze the juice of one lime into a cup and add 1 x tbsp of olive oil, 2 x tbsp of balsamic vinegar and 1 x crushed clove of garlic and some salt and pepper – then mix well and pour over the salad – mix well. Pour over the crumbed feta cheese to finish
To cook the fish, simply place the fish in a hot pan with the juices of 2 x limes. Cook on a light heat until cooked though and when cooked squeeze over some more lime juice then serve with the salad. Really quick and really easy to make!
Serves 2. Calories per serve 390
If you are ready to lose weight then the Lose Baby Weight plans offer a healthy and safe exercise and diet routine that are safe in breastfeeding

And don't forget to check out our current promotions and discounts page to see what specials we have on this week on our Healthy Mummy product range