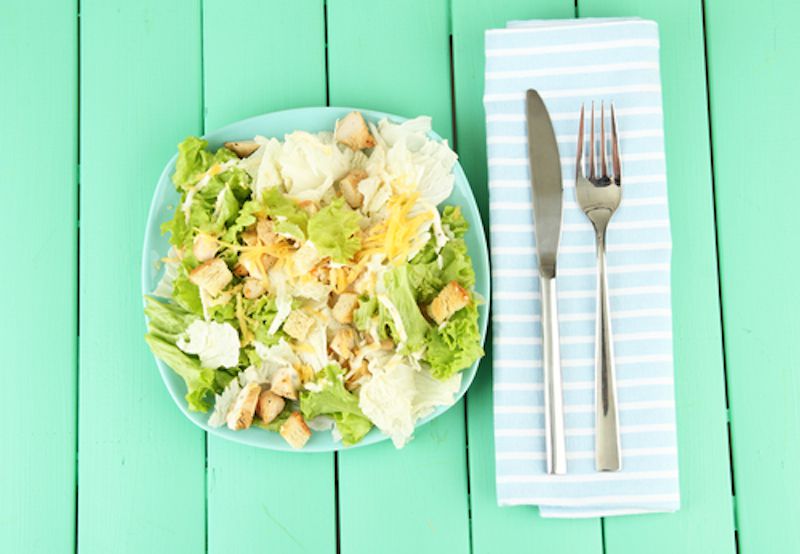 After the festive season, it's a great idea to get right back into fresh and wholesome healthy eating salads for your meals.
Salads are a great way to pack in lots of fresh veggies, and you can be sure to add some delicious flavours by making your own tasty dressings.
The salad dressings that you can buy from the supermarket tend to be loaded with sugar, oil, cream or mayonnaise – not exactly ideal when you are trying to lose weight after pregnancy.
By making your own from scratch, you can leave out the nasties that could derail your weight loss and focus on packing in as much flavour as possible.
A classic Caesar Salad isn't usually known as a healthy option, but this lighter version can be on your healthy eating plan as it goes easy on the richer ingredients.
There's no bacon, no mayo, wholemeal bread instead of white, less cheese, less oil – but still so much flavour that you won't feel as though you are missing out at all.
Optional extras:
Add 1 cooked and shredded chicken breast
Throw in some chunks of crisp cucumber
Finely slice and add an anchovy or two
Add some wedges of boiled egg
Toss in some cooked prawns
Ingredients:
1 cos lettuce
100g Greek yoghurt
2 tbsp olive oil
6 tbsp Parmesan cheese, grated
1 tsp minced garlic
1 tbsp Worcestershire sauce
Juice and zest of ½ a lemon
2 slices of good quality, thick wholemeal bread, cut into cubes
Salt and pepper, to taste
Method:
Heat the oven to 180C.
Sprinkle the bread over a baking tray and cook for 10 minutes until crisp and golden.
Make the salad dressing by combining the yoghurt, olive oil, half of the Parmesan, garlic, Worcestershire sauce, and lemon.
Season to taste.
Rip or chop up the lettuce and arrange in a large bowl.
Add the croutons, then the salad dressing.
Use your hands to toss it all together.
Sprinkle with the rest of the cheese to serve.
Serves: 4. Calories per serve: 210.

GET YOUR 10% DISCOUNT
If you are ready to lose weight then the Lose Baby Weight plans offer a healthy and safe exercise and diet routine and you can get a 10% discount by using code LOYALTY at the checkout
PLUS our BEST SELLING 28 Day Diet & Exercise Plan is available as a 200pg Printed Book and you can get your copy here 
Plus our NEW CALORIE BIBLE is now available – get your copy today! Only $19.95 and a must have in your handbag!
Click HERE to see our shop