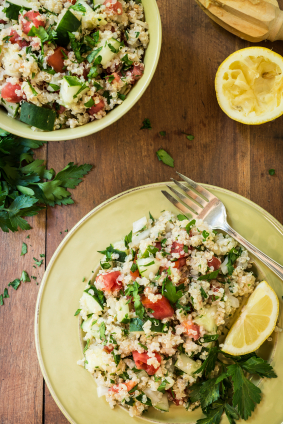 This fresh and zesty salad is a perfect weight loss friendly side to serve at your next BBQ, with a roast chicken, or with some grilled fish.
Quinoa is such a great option to add to your salads.
Instead of being a traditional carb like rice, pasta or cous cous, this nutritional powerhouse is packed with protein and healthy fibre – all great for weight loss.
Using fresh herbs in your cooking is another weight loss cooking tip that we absolutely love (even better if you can grow some in a pot at home).
Parsley and mint are a match made in heaven, and the fresh lemon cuts through it all to add a nice zing.
Ingredients:
¾ cup quinoa
1 ½ cups water
200g cherry tomatoes, halved
1 large cucumber, peeled and diced
6 tbsp olive oil
Zest and juice of 1 lemon
½ tsp cumin
½ tsp cinnamon
½ cup chopped parsley leaves
½ cup chopped mint leaves
¼ cup crushed almonds, cashews or pistachios
Salt and pepper, to taste
Method:
Rinse your quinoa under running water.
Bring the water to a boil in a small saucepan and add the quinoa.
Turn down to a low simmer and cook for around 15 minutes, or until the water has all been absorbed. Set aside to cool for 30 minutes.
Make the dressing by combining the olive oil, lemon, cumin and cinnamon.
Place the quinoa into your salad bowl and add the tomatoes and cucumber.
Drizzle over the dressing, season to taste, and then stir through the chopped herbs.
Chill for 30 minutes before serving with the crushed nuts over the top.
Serves: 6. Calories per serve: 250.

GET YOUR 10% DISCOUNT
If you are ready to lose weight then the Lose Baby Weight plans offer a healthy and safe exercise and diet routine and you can get a 10% discount by using code LOYALTY at the checkout
PLUS our BEST SELLING 28 Day Diet & Exercise Plan is available as a 200pg Printed Book and you can get your copy here 
Plus our NEW CALORIE BIBLE is now available – get your copy today! Only $19.95 and a must have in your handbag!
Click HERE to see our shop