One of the most amazing things about expanding your menu and including a whole variety of new foods in your diet is the different kind of cuisines you soon become exposed to. Weight loss doesn't have to mean boring, and there's no reason why food still shouldn't be something you enjoy.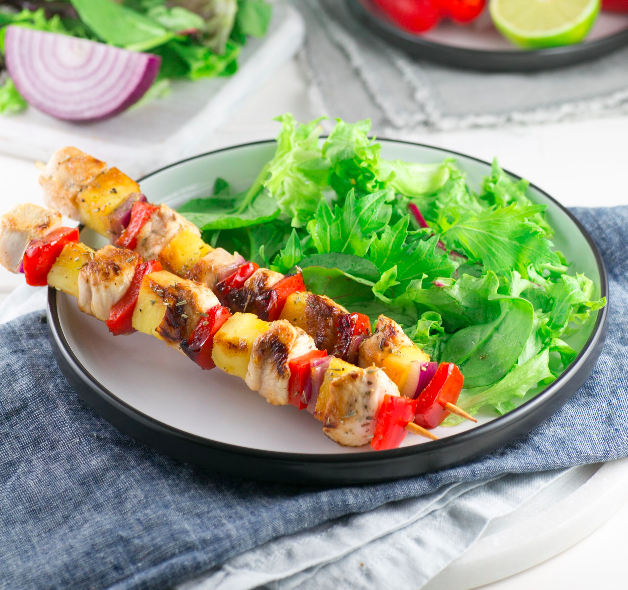 There's a good chance that once you grow accustomed to your new way of eating, you'll actually end up enjoying your food more as you take the time to savour the different textures and flavours. A great way of diversifying your menu is by 'eating around the globe' or trying to incorporate new recipes from a variety of different cuisines.
We are so lucky in Australia to have a range of authentic multicultural food options and recipes available to us with many options being extremely healthy and weight loss friendly. There's a good chance that the humble stir fry is in regular rotation in your household, possibly alongside things like a tasty curry or coconut milk based soup.
Lebanese cuisine is another delicious option for your menu.Generally featuring lean meats, lots of veggies, herbs and spices and yoghurt based sauces, Lebanese food is one of my personal favourites due to the amazing flavours that come from such simple, wholesome foods.
This recipe combines lean chicken breast with lemon, garlic, yoghurt and a whole range of different herbs and spices for loads of flavour, without extra calories, salt or sugar. You can serve these kebabs as is or with a big green salad. You could also make double and save the rest for lunchboxes or even sandwiches once removed from the skewers.
Enjoy!
Ingredients
500g skinless chicken breast, cubed

Mixed vegetables cubed
Marinade
Juice and zest of 1 lemon

3 cloves of garlic, crushed

2 tbsp natural or Greek style yoghurt

2 tbsp olive oil

2 tbsp apple cider vinegar

1/2 tsp ground oregano

1/2 tsp ground paprika

1/2 tsp ground ginger
Garlic sauce
1 cup natural or Greek style yoghurt

1 garlic clove, crushed

2 tbsp lemon juice

Pinch sea salt
Directions
Combine all the marinade ingredients in a large bowl.

Add the chicken and ensure that all is covered well with marinade.

Cover with cling film and allow to marinate for as long as possible.

Once finished marinating, thread chicken pieces onto metal or pre-soaked bamboo skewers.

Heat a grill or frypan over medium/high heat and place skewers onto heated surface.

Grill/pan fry for 5-8 minutes before turning.

Once skewers are golden brown and cooked through, remove from heat.

Place on a plate/in a dish and cover tightly with foil while you make the garlic sauce.

To make the garlic sauce, combine all ingredients well and allow to sit for 5 minutes for flavours to combine.

Serve chicken with garlic sauce and pita bread or green salad.
Makes 4 servings – Cal per serve – 250