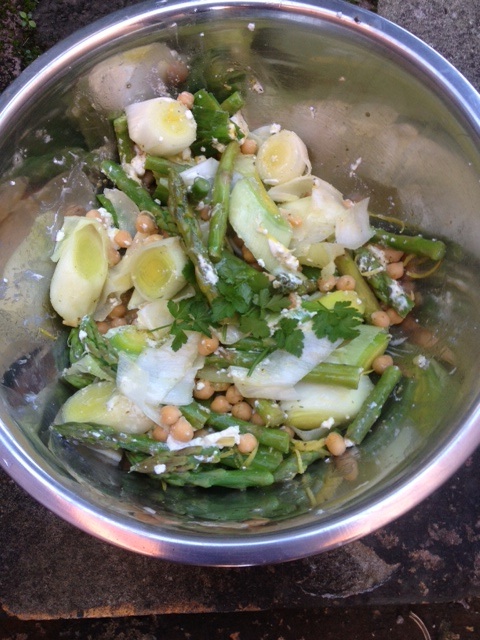 It's not often that leeks get to be the star of the show.
All too often, these cousins of onion and garlic are all meek and mild in their supporting roles (think chicken and leek pie or potato and leek soup).
Today we have a really tasty warm salad recipe that allows the leeks to shine.
As they are in season at present, leeks are of good quality and are quite affordable.
Leeks provide many health benefits, including folate. Besides being essential for pregnant women, folate also helps to protect your heart and blood vessels.
Leeks also contain antioxidants, which are known to help fight against chronic disease and ageing.
Last but not least, leeks also contain vitamins and minerals such as Vitamin C, B6, Vitamin K, manganese and iron.
As the weather cools down the idea of a salad as a main meal may seem less appealing. We often crave a warming meal when the temperature drops.
With this warm salad you get to enjoy a healthy and nutritious meal that warms you up from the inside, and is great if you are trying to lose weight.
This is one of those dishes that make you feel really great afterwards – not too heavy, yet filling enough to be more than satisfying.
If you wanted to add more protein you could serve it with some poached or grilled chicken; or even some grilled fish.
Ingredients For The Salad:
3 leeks
1 bunch fresh asparagus, ends removed, cut in half

1 cup salt reduced chicken or vegetable stock

1 tin of chickpeas (400g), drained and rinsed
100g low fat feta cheese
Small handful of parsley leaves, to serve
Ingredients For The Dressing:

2 tbsp olive oil

Juice and zest of one lemon
Salt and pepper
1 tsp green pesto (or you could use 
1 clove of minced garlic)
Method:
Remove the root from the leeks, and discard. Chop the leeks into 2cm chunks, using the white and green part of the leek (except for the very top of the leek).
Place into a bowl of cold water to remove any dirt. Try to keep the leek disks intact as you put them in.
Heat the stock in a large frying pan over med/high heat. When it is boiling, reduce the heat to a simmer and use a slotted spoon to add the leek chunks with one flat side down. Place the asparagus over the top of the leeks to steam.
Simmer for around 5 minutes until leeks and asparagus are tender.
In the meantime you can make your dressing; simply place all of the ingredients into a small container and mix well.
Use the slotted spoon to remove the leeks and asparagus from the pan and place into your salad bowl.
Place the pan back on the heat and pour in your chickpeas to warm through for 2 minutes.
Add the warm chickpeas to the leek and asparagus, sprinkle over the feta, then the dressing, and top with the parsley leaves.
Serves: 3. Calories per serve: 378.

GET YOUR 10% DISCOUNT
If you are ready to lose weight then the Lose Baby Weight plans offer a healthy and safe exercise and diet routine and you can get a 10% discount by using code LOYALTY at the checkout
PLUS our BEST SELLING 28 Day Diet & Exercise Plan has now launched as an 84pg Printed Book and you can get your copy here 
Click HERE to see our shop