First week done and 1kg down. YAY !!!
Its only been a week into being a Motivating Mum and I'm loving it. I have started with a challenge for myself. My challenge is to do at least one workout from the Healthy Mummy exercise DVD each day and this is on top of me going to the gym 3 times a week. I have stuck to it so far, except one day were I was sick but I will continue for the month.
I'm just loving how convenient the DVD is. It makes it so easy to do each day. I haven't done the whole DVD in one go, but will attempt that in the following weeks. I've been doing the Low Impact Cardio Work out, toning Cardio workout and the Stretch and Relax. The Low impact Cardio workout was a great one for a quick pick me up and I loved the stretch and relax at night to help clear my head.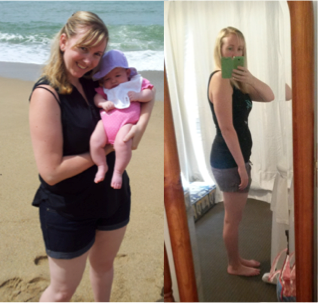 It has been a bit of a struggle to start my first challenge as I completed a Mud Run to start this month off. For those who don't know what a mud run is, it's a 10km track with 26 obstacles. The obstacles were crawling through mud, walking through dams to climbing over cattle trucks, walls and through a skip bin full of ice cold water.  So now you could see why I was a little sore and tired to start my healthy mummy DVD challenge.
I have also started taking my Healthy Mummy Fish Oil Tablets every day. I had them just sitting on my kitchen bench, so I went on the Lose Baby Weight Website and had read what they are all about and it surprised me at just how beneficial they are. So now I'm giving them a go.
My Healthy Mummy Smoothies are going really well. I still have one for Breakfast and one for Lunch. I love berry smoothies and the Mocha Smoothie is a god send on those morning when you just know it's going to be a long day.  I have made smoothies to take to work for lunch (not with banana, as it goes bad. Learnt that the hard way. Ha Ha) or when I'm running out the door early in the morning, so I'm never missing a meal.
I like to set my menu for the week and plan my groceries so there is little room for setbacks. I use meals and snacks from the 28 Day diet plan, Spring and Summer cookbook and the Lose Baby weight website. I have so many options and every week is different so I'm not getting bored with the same old dinners. I tried some new recipes this week and I'm so excited about it. My Favourite dinner has been the Salmon on White Bean Puree from the Spring & Summer Cookbook. I also have the Beef or Lamb Kebabs at least once a week, as they are simple and tasty.
Being December, there have been so many temptations around. I have kept strong and know that every day I say 'no' I'm getting stronger on my life changing journey.  The hardest place I've found to stay strong is at work. There are a lot of temptations around with cake, chocolates and lollies, but since letting all my work colleagues know about my weight loss mission it has been a lot easier. They are supporting me and some are even working with me.  If you show pride in yourself and let people know what you're doing most of them understand and may even be in same situation as you. I use to be embarrassed about being on a diet but it's not a diet, it's a life style change!!!
To help get me through some of the temptations I have made my own snacks. I whipped up some very yummy Chocolate Chip Chickpea Cookies from the healthy mummy Calorie Bible. On my list to bake next is some Chocolate Coconut Slice from the Lose Baby Weight website and as you can see I just love Chocolate! I've also started to pack snacks for myself if I know I'll be out and about for a while. I figure, I pack food for my daughter so why not myself.
I hope your all having a good month too.
Talk Soon xo
GET YOUR 10% DISCOUNT
If you are ready to lose weight then the Lose Baby Weight plans offer a healthy and safe exercise and diet routine and you can get a 10% discount by using code LOYALTY at the checkout
PLUS our BEST SELLING 28 Day Diet & Exercise Plan is available as an 84pg Printed Book and you can get your copy here 
Plus our NEW CALORIE BIBLE is now available – get your copy today! Only $19.95 and a must have in your handbag!
Click HERE to see our shop