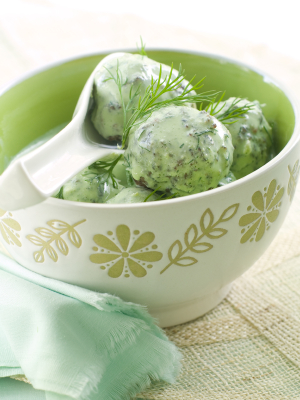 This healthy eating recipe feels indulgent and creamy but is in fact packed with healthy spices, yoghurt and fruit.
These meatballs can be eaten on their own, with a salad, in a wrap, or even with some spaghetti. They also reheat well the next day for a healthy eating snack.
Baking the meatballs on top of a wire rack means that you don't need to use any oil, and any excess fat from the meat can drain away.
Optional extras for the meatballs:
Throw in some crumbled feta
Add crushed pistachios
Finely slice a small red chilli to add some heat
Swap the sultanas for some chopped dates
Ingredients:
For the meatballs:
400g lean minced lamb
1 small onion, peeled and very finely diced
4 tbsp sultanas
1 tsp cumin
1 tsp ground coriander
½ tsp cinnamon
Salt and pepper, to taste
For the sauce:
½ cup mint
½ cup dill, parsley or coriander
½ cup Greek yoghurt
1 tsp minced garlic
Juice and zest of ½ a lime
Salt and pepper, to taste
Method:
Preheat your oven to 180C and line 2 trays with baking paper. If you have them, place some wire racks on top so that any fat can drain away.
Prepare the meatballs by placing all of the ingredients into a large bowl and mix with your hands.
Use wet hands to shape the mixture into around 20-30 balls and place on the lined trays.
Bake for 15-20 minutes, turning once, until the centres are no longer pink.
Meanwhile, make the sauce by combining all of the ingredients in a blender or food processor.
Pour the sauce over the cooked meatballs to serve.
Serves: 4. Calories per serve: 175.

GET YOUR 10% DISCOUNT
If you are ready to lose weight then the Lose Baby Weight plans offer a healthy and safe exercise and diet routine and you can get a 10% discount by using code LOYALTY at the checkout
PLUS our BEST SELLING 28 Day Diet & Exercise Plan is available as a 200pg Printed Book and you can get your copy here 
Plus our NEW CALORIE BIBLE is now available – get your copy today! Only $19.95 and a must have in your handbag!
Click HERE to see our shop