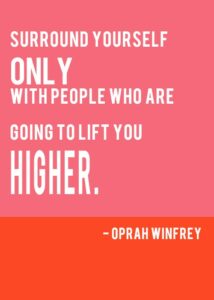 Generally, friends and family are overwhelmingly supportive when someone is trying to lose weight or trying to live a healthier life. Losing weight is far easier when you have people around you telling you how well you are doing, and complimenting you on your new look.
However, not everyone is lucky enough to have a supportive group of people around them, and losing weight becomes more of a challenge when people are uninterested or actively try to discourage weight loss.
Why are People Unsupportive?
Many people within families start to feel threatened when a family member decides to tackle their eating habits and adopt a healthier lifestyle.
Many people who are overweight themselves will feel that a decision to lose weight is a direct criticism of their own weight and will feel offended.
Despite the huge amount of publicity over healthy eating and the obesity crisis in recent years, many people still lack a basic understanding of nutrition and its importance on health and wellbeing.
There is still a misconception that healthy eating has to mean existing on a few salad leaves and it can be an uphill battle to convince family members that this is not the case. For women who are cooking for their families, there may be a concern that family meals may suddenly become unappetizing when a healthy eating regime starts – which is why we have made the meals on our 28 Day Diet & Exercise plan family friendly.
Although most of these factors can be dealt with by careful explanation and will diminish over time, unsupportive family members can mean the person trying to lose weight has to look elsewhere for support, encouragement and motivation.
Dealing With Concerns
When family and friends are unsupportive, the best way to deal with this is to explain why you are wanting to lose weight and that it is a personal choice with no reflection on their own lifestyle choices.
Stick to your guns and if a family member tries to sabotage a diet with chocolate or cake, remind them again that you are trying to lose weight for your health and self esteem and that you value and need their support. If repeated often enough, the message will get through eventually.
Online support
Checking in to the Lose Baby Weight site daily will help you stay motivated and the free weight loss tracking tool will give you stats and motivation to keep going – plus you will get weekly status updates to congratulate you on your success. Plus the Lose Baby Weight Facebook page is there to help you through the day – and hopefully bring a few smiles to you too – to help with the good old sleep deprivation and exhaustion that comes with being a mum! And we send you a daily email with motivation and help every day at 7.30am and we are always here on email and phone to help in any way we can.
Gyms and Exercise Classes
Joining a gym or attending a regular exercise class can be another great way of meeting people who are also trying to lose weight and improve their general levels of fitness. Many exercise classes are very sociable, and are a good way to meet new friends as well as getting support. It may take some time to find the best gym or most appropriate exercise class, but most offer free trial sessions to enable people to find the place they feel most comfortable with. And some offer creches so you can take your little one with you
GET YOUR 10% DISCOUNT
If you are ready to lose weight then the Lose Baby Weight plans offer a healthy and safe exercise and diet routine and you can get a 10% discount by using code LOYALTY at the checkout
PLUS our BEST SELLING 28 Day Diet & Exercise Plan has now launched as an 84pg Printed Book and you can get your copy here 
Click HERE to see our shop