I am really enjoying being a Motivating Mum and sharing my weight loss journey with the best way to lose weight.
Taking time every day to post up something to share with others; a healthy mummy smoothie, meal or snack from one of the amazing weight loss recipe cookbooks or showing some sort of exercise for the day is really motivating and helps me stay on track with my weight loss plan.
Knowing that others are going to see my progress & journey has been the kick in the butt and motivation I've been looking for!
The last two weeks have been quite busy in my household, with the everyday things mum's have to do, but also having my husband home on holidays this week.
BUT, instead of getting too busy to stick to my healthy eating and exercise plan, I've instead made sure that I'm organised in those areas and lost another 2.5 kilos this fortnight, bringing my total weight loss to 8 kilos on the Lose Baby Weight plans



Each week, I've sat down with my 28 Day Plan book, as well as the Spring/Summer cookbook,  Comfort Eating e-book, and planned the whole week. I've planned not only the 3 main meals for the day, but also the snacks I'll eat. This has made grocery shopping a whole lot easier, and meant I didn't have to think about what to make for dinner every night (most mum's worst part of the day!) or ponder over what to eat for a snack. This has made a HUGE difference in the success I've had over the last fortnight.
We've loved trying new recipes from all of the books available, and testing out new healthy mummy smoothie concoctions has been lots of fun! My husband and 16 month old have both loved every meal, and been very happy to eat the little treats I've made from the Guilt Free cookbook. I haven't had to make a separate meal for myself and them, and this has made everything a lot easier!
My favourite healthy mummy smoothie for the last fortnight has been the Strawberry Slam, so yum! I love that each smoothie is so quick & easy to make & you don't need a huge variety of ingredients to create something delicious! The variety is what makes this weight loss program so easy to follow and stick with.
I've made a few things from the Guilt Free cookbook the last fortnight (chocolate chip chickpea cookies & the flour-less chocolate cake), but my absolute favourite was the flour-less chocolate cake. Even though chickpeas are the main ingredient, you cannot tell the difference and it was a huge hit in our household!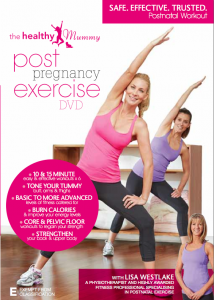 Exercise wise, we generally walk our dogs every evening, but my goal this month was to add in the extra exercise by using the Post Pregnancy DVD, and also trying to add in an extra walk with my son in the morning. We had some shocking weather this last week in Melbourne, so our walks were non existent for a few days, but it's great knowing that you can get a fantastic workout using the DVD. I love that is caters for all abilities and believe me if I can do it, anyone can (I am very uncoordinated!). It's also perfect because you can choose to fit in a quick 10-15 minute workout while your child is napping, or if you have time you can do the whole lot!
The main tip I could give for anyone reading this? Be organised and plan your meals! Having a plan set out at the start of every week has not only made it easier to get meals & snacks ready and grocery shop, but it's also meant that I'm far less likely to grab for something unhealthy to eat, when I have something healthy sitting there waiting for me. And if you have a sweet tooth like me, make something from the Guilt Free cookbook, you will be more than satisfied with the result!
Using the amazing plans, meals, smoothies and exercises available from The Healthy Mummy program I've now lost 8 kilos, and feel like I'm finally on the right path to lose the big amount of weight I want to. I also feel a lot more accountable having to share my journey with all of you, and am really excited to share the next 2 weeks with you!
Krista Mountford
GET YOUR 10% DISCOUNT
If you are ready to lose weight then the Lose Baby Weight plans offer a healthy and safe exercise and diet routine and you can get a 10% discount by using code LOYALTY at the checkout
PLUS our BEST SELLING 28 Day Diet & Exercise Plan is available as a 200pg Printed Book and you can get your copy here 
Plus our NEW CALORIE BIBLE is now available – get your copy today! Only $19.95 and a must have in your handbag!
Click HERE to see our shop