While it would be lovely to be able to take a magic pill and see the post baby weight just melt away, the reality is that it takes a little more time and effort.
While it may not be the most cutting edge solution, a combination of healthy eating and exercise is still the best way to lose baby weight.
At Lose Baby Weight we encourage you to start losing weight only when you feel mentally and physically ready and then equip you with the tools you need to kick start your weight loss in a healthy, sustainable way.
Kiara, who has now lost 8 kilograms of her baby weight with Lose Baby Weight, found herself caught in the same trap many women experience; yo yo eating and exercise. Eating and exercising in this way usually leads to weight gain (instead of weight loss) and can be very damaging to your physical and emotional health.
Kiara decided to make a change for the better 6 weeks ago.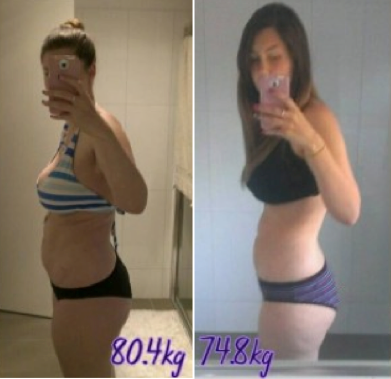 Here's her experience thus far:
" I started the Lose Baby Weight 28 Day Diet And Exercise Plan about 6 weeks ago when my daughter was 6 months old.
I weighed over 80kg I was not happy with my body but couldn't consistently lose weight. I'd do well for a few weeks then binge and gain it all back again! I knew something had to change.
The 28 day plan taught me what to eat and helped me with portion control. I lost 6kg in the first month and have since lost another 2kg and am now only 4kg away from my goal weight!
I'm also feeling much fitter and healthier and love the simple and healthy approach to losing with your plans!
Thanks Lose Baby Weight!'
Kiara Randal
If you are ready to lose weight then the Lose Baby Weight plans offer a healthy and safe exercise and diet routine.

And don't forget to check out our current promotions and discounts page to see what specials we have on this week on our Healthy Mummy product range