I have been having a battle with the scales in the past few weeks – even though I have lost 22kg since June using the 28 Day Plan, Healthy Mummy Smoothies and Exercise DVD.
This week, I have gained lean muscle – And it has been a HUGE mind battle for me to not get down and to keep up my hard work! This then got even harder when I got my "time of the month" for the first time since bubs was born (and while being on Lose Baby Weight)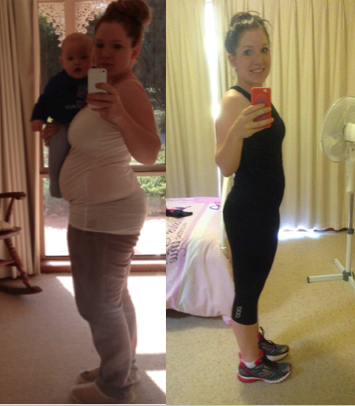 To get through all of this I used lots of the tips off the lose baby weight website regarding this matter. I take my measurements (they have not gone up so that's good!)So I really am shrinking- my hard work just isn't showing on the scales yet- but it will!
I have been continuing with using the exercise DVD and have been really enjoying the challenge exercises! I have continued to do each weeks challenges and increasing my numbers.  I am really pushing myself to the limit with these exercises and I am feeling SO much stronger!
My husband and I had a night away and it has been the first time I have felt confident enough within myself to not over indulge and I was really happy with myself! We had a few treats like a slice of cake to share and a cocktail. I did go for a 5km run the next morning to work off the extra calories J
I have decided to shift my focus from losing the numbers to being as fit as I can be by increasing my daily exercise and setting some more challenges and hopefully this extra hard work will help me to reach my goal weight.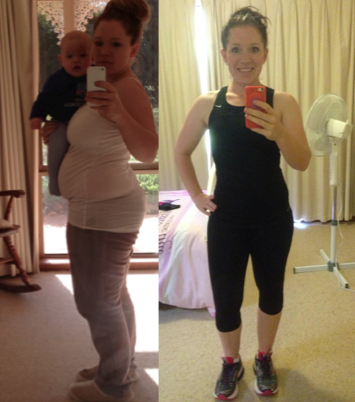 It seems that the last part of my journey is going to be the longest but I am not letting that deter me at all- I just have to work a little harder
I am going to keep my weight goal the same but I have broken it into lots of mini goals throughout the next 6 months so I have taken the pressure completely off myself
I am hoping it won't take that long but if it does it does I suppose but I definitely am not going to give up!
My husband kicked me back into gear when I talked to him last night while I was on the exercise bike and he said to me that I wouldn't even have been able to ride for 5mins- let alone for 1 hour 8 months ago.
Made me realise how much I have been judging myself and put myself down and that isn't what I want to take from all of this, that was the old me- not the new me who I love so much more!
I hope you are all enjoying the challenge and are discovering new things about yourselves- I know I am!
Stay happy and healthy xoxo