Popular in the Middle East and India, kofta are a meatball style meal, made with minced meat and vegetables.
The rich savoury flavours of these kofta, perfectly seasoned with herbs and complimented by the creamy Masala makes a deliciously different dinner the family will love.
In fact this recipe is so tasty no one will ever guess it is a healthy, calorie controlled part of our 28 Day Challenge to lose baby weight.
You could use lamb or beef mince instead of kangaroo.  The kofta can be prepared ahead of time and left in the fridge until ready to cook.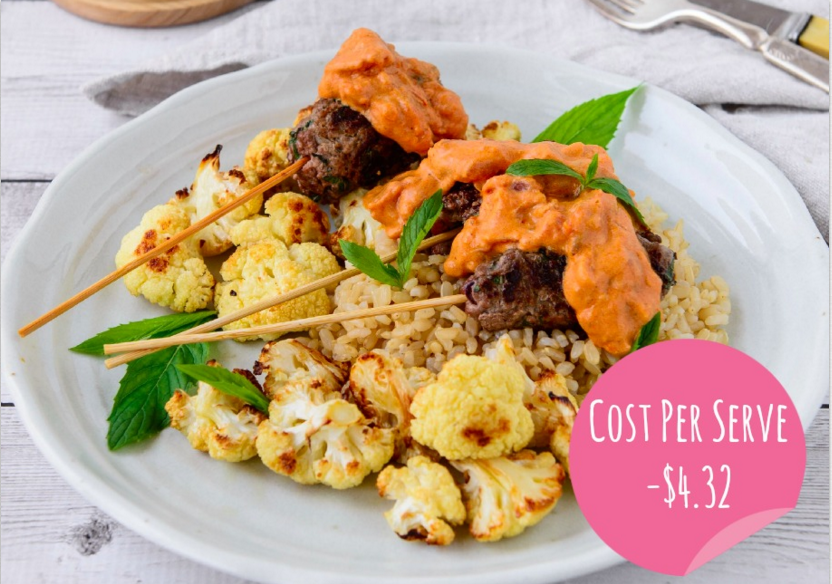 Ingredients (Makes 1 serve)
Prep Time: 35 mins
Cooking Time: 40 mins
100 grams of lean kangaroo mince
1/4 grated brown onion (25 grams)
1/4 teaspoon ground cumin (0.25 grams)
1/4 teaspoon ground coriander (0.25 grams)
1/2 tablespoon finely chopped mint leaves (2.5 grams)
2 cups cauliflower (200 grams)
2 teaspoons extra virgin olive oil (10 mls)
1/2 teaspoon grated fresh ginger (2 grams)
1/2 teaspoon curry powder (0.5 grams)
1 teaspoon tomato paste (4 grams)
100 grams of tinned tomatoes
2 tablespoons reduced-fat Greek natural yoghurt (40 grams)
cooking oil spray
1/4 brown rice, uncooked (40 grams)
Method
Prepare the kofta by combining the kangaroo mince, half of the grated onion (squeezed of any excess liquid), cumin, coriander and mint in a bowl. Use your hands to mix well.
Roll heaped tablespoons of the mince mixture into 3 logs per serve. Then flatten slightly and insert a skewer ¾ of the way into the kofta. Cover and place in the fridge to chill for 30 minutes to firm up.
Cook rice according to packet instructions. Preheat oven to 180C and prepare a baking tray with baking paper.
Chop cauliflower into florets and toss with half the oil. Spread over the baking tray. Roast for 15 – 20 minutes or until tender. Set aside.
To make the masala sauce, place a frypan over a medium heat, add remaining oil and cook remaining onion until softened, about 2-3 minutes. Add ginger, curry powder, and tomato paste, and cook for 1 minute. Add tinned tomatoes and simmer, covered, for 15 minutes. Then stir through yoghurt.
Once kofta have firmed in the fridge, heat another frypan over a medium heat. Spray pan lightly with cooking oil and cook kofta, turning several times, for 7-10 minutes until browned and cooked through.
Serve kofta with rice and roasted cauliflower covered with masala sauce.
Easter is nearly here and if you are worried about sugar & calorie overload this Easter then NEVER FEAR – the Healthy Mummy is here!
And this April – straight after Easter, we are running our 28 Day Weight Loss Challenge SUGAR DETOX SPECIAL
Designed to help you detox from Sugar and lose weight
Get your FREE Sugar Detox recipe sampler below and see why detoxing from sugar – plus losing weight – has never been easier