Following a healthy eating diet plan and looking for a delicious, spicy and healthy weight loss recipe to try?
Then look no further than this Jambalaya which is ideal when trying to lose pregnancy weight.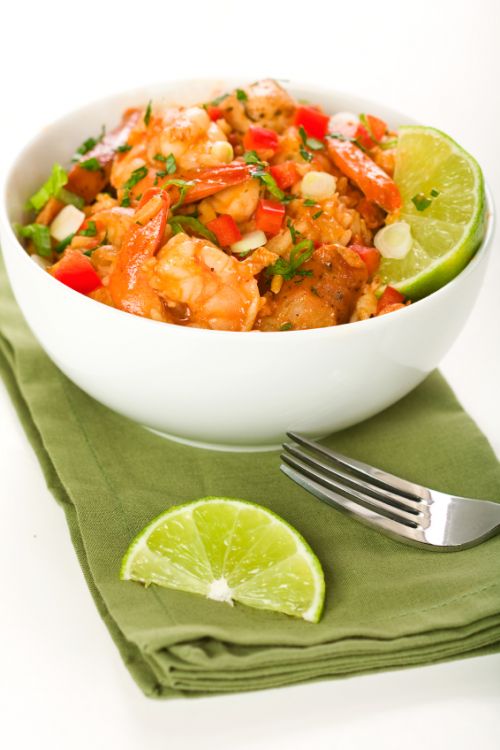 Sometimes referred to as 'red jambalaya' due to its tomato content, this dish is simple but incredibly tasty. The New Orleans classic has all the charm and spice of the city itself and is often made in giant pots to be shared by many.
The small amount of chorizo adds a smoky spice to the dish, while the prawns and chicken breast add lean protein to keep you feeling full.
The choice of rice is up to you with many options including basmati rice, which is lower GI and higher nutrition than white rice, or there's red, black, brown or even wild rice. As a general rule, the higher the nutrition content of the rice the longer the cooking time so you are best to refer to the packet for detailed instructions. Wild rice has fantastic health benefits but takes approximately 45 minutes to cook, so it may need to be par-boiled before adding to the remaining ingredients to simmer.
For more yummy recipes join the 28 Day Weight Loss Challenge with over 350 EXCLUSIVE recipes


Ingredients
1 tbsp. rice bran or coconut oil
80g chorizo sausage
100g shelled prawns
200g chicken breast, diced
2 brown onions, diced
½ large red capsicum, diced
2 sticks celery
400g crushed tinned tomatoes
1 tsp thyme
1/8 tsp cayenne pepper (optional)
1½ cups reduced salt chicken stock
2 tbsp. Worchestershire sauce
1 cup brown or basmati rice
Method
In a large frying pan with oil, sauté chorizo, chicken breast, onions, capsicum, celery and garlic until the outside of the chicken is white.
Add remaining ingredients and bring to the boil. Reduce heat and simmer for 15-20 minutes until rice is cooked, stirring occasionally and adding more stock if required.
Best served in large dinner bowls.
Serves 4, 321 cal per serve
For more yummy recipes join the 28 Day Weight Loss Challenge with over 350 EXCLUSIVE recipes