Hi Lose Baby Weight,
My name is Jade Millar and this is my weight loss story after using your amazing Healthy Mummy smoothies!
I gave birth to my beautiful little girl in March and during her baking time I suffered with gestational diabetes. I ended up a whopping 89.7kg which was a significant gain as I was a very slim 55kg before the pregnancy. I was very depressed.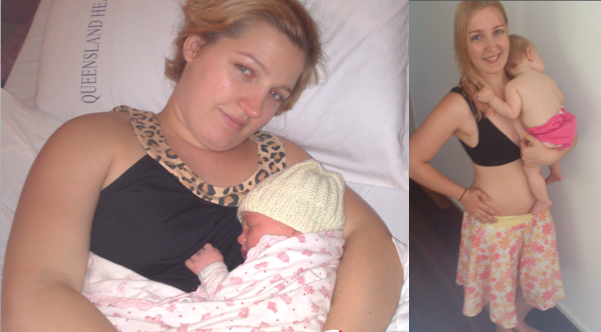 After the birth my cesarean scar split open 3 times and I had to go back twice for surgery, leaving me unable to exercise or do daily things. Just getting out of bed to feed myself became a chore and I struggled to stay healthy while nursing my darling daughter.
Thanks to Lose Baby Weight, not only have I lost 20kg but I was able enjoy a hassle free, healthy mummy smoothie for breakfast and lunch, keep my milk supply through all the operations and stress and regain strength, health and overall happiness as a new mum!
I love this product soooo much and recommend it to all my friends (and even strangers who are breastfeeding) and have been able to reclaim my life as young wife and mummy at 23 years old. Thank you Lose Baby Weight team!
Sincerely in your debt,
Jade
If you are ready to lose weight then the Lose Baby Weight plans offer a healthy and safe exercise and diet routine.

And don't forget to check out our current promotions and discounts page to see what specials we have on this week on our Healthy Mummy product range
And see below for the ingredients in our healthy mummy smoothies