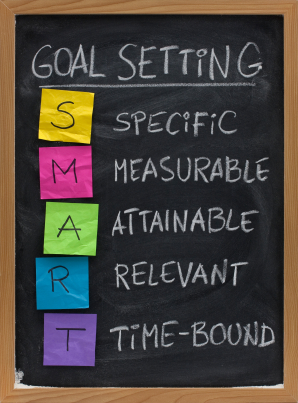 Setting goals helps to make you more accountable. And it's important to be specific too.
Simply saying 'I would like to lose weight over Winter' is very difficult to measure.
What is success in that instance – a 0.2kg weight loss, a 1kg weight loss, a 5kg weight loss?

It's important to make sure your goals fit the SMART criteria – you can read more about that here.
But what if you're not quite sure what your goal should be? Or you aren't sure what is realistic?
Today we have some examples to help you to determine what your goal could be, no matter where you are starting from with your weight loss journey.
And they don't have to be weight loss based either! You might find that by focusing on feeling good, eating healthy food and moving more – the weight loss will follow naturally.
By December 1st , 2014, I would like to:
fit into my pre-pregnancy jeans
be able to run 1km without stopping
sign up for a 5km fun run
attend a Zumba class
start a gratitude journal
cut down to one coffee per day
be cooking a new recipe for my family once per week
lose 4kg
do the advanced cardio segment on the Healthy Mummy Exercise DVD
spend 10 minutes each morning meditating
Increase my stats on my fitness test in the 28 Day Challenge
be able to swim 15 laps of the local pool without stopping
go into a department store and buy a new swimsuit
no longer keep sweet biscuits in my pantry cupboard
drink 2L of water per day
master the art of a winning lasagne
do 50 squats and 50 lunges per day
go on a family bike ride
make a permanent switch to wholegrain bread
drink a cup of green tea each morning
get at least 7 hours sleep per night
join a touch football team
try stand-up paddle boarding
read for 20 minutes each day
lose 5cm off my stomach measurement
Think of what you want to achieve and then write it down today. And believe in yourself as you CAN do it and with our 28 Day Challenge tools and your self believe YOU CAN do it!!
Let's make this your best Spring & Summer yet!
GET YOUR 10% DISCOUNT
If you are ready to lose weight then the Lose Baby Weight plans offer a healthy and safe exercise and diet routine and you can get a 10% discount by using code LOYALTY at the checkout
Click HERE to see our shop