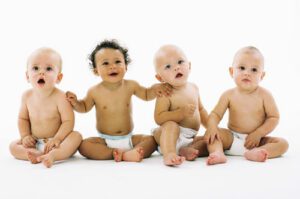 When it comes to losing your baby weight, sometimes you need a bit of 'me time'! So, give yourself a break and hire a great carer!
Hiring a babysitter or nanny to look after your kids should be approached as one of the most important jobs in the world.  After all, the successful carer will be alone with your kids for long periods of time, with sole custody and responsibility for their care, health and happiness.  So make sure you give a lot of thought to the type of carer who will best suit your family.
The Top 5 Basics:
1.     Safety – when you prepare your short list, ensure each carer has a current Working with Children's Check (WWC or Blue Card) or a Police Check (and make sure you ask to see it!), or is prepared to get one prior to commencing with you.
2.     Telephone screening – this will help you short list and will save you a lot of time in the long run!  Use telephone screening to verify each carer's experience and qualifications, discuss commencement date, required days/ hours, specific duties and hourly rate of pay.  Try and get a feel for the applicant's personality. If you like them, ask them to send their CV and arrange a face to face interview.
3.     CV review – a CV is a summary of the care's education, skills and experience.  Make sure you read it! Check for qualifications (if this is one of your requirements) and certifications (WWC, Police Check, First Aid etc).  Identify the areas you want to follow up with questions.
4.     Face to face interviews – are crucial! It's amazing how many times we hear that someone has hired a carer off the strength of a phone call or recommendation without first meeting them! You need to meet the carer to verify whether this is THE person you want looking after your kids.  Ask open ended questions to get more than a 'yes/no' answer.  Listen carefully to the answers and watch the carer's body language.
5.     Meet the kids – ALWAYS have the carer meet your kids before you make a recruitment decision.  If the carer can't handle your kids when you are there, they have no chance when you are not!  Watch everyone's body language and let your kids ask questions to see how the carer interacts with them.  One Nanny I interviewed was asked the following questions by my kids:
First son (8 year old footy maniac): "Do you play footy?" ("Absolutely, and so does my brother, he has heaps of trophies – I will bring some to show you if you like".) She had him at 'Absolutely…'
Second son (7 year old soup fanatic): "Do you cook soup?" ("Yes, I love soup, especially pumpkin soup – what is your favourite soup?").  Two for two;
Daughter (5 year old fairy lover) "Are you a fairy?" ("No, but I love looking for fairies and writing them little notes and leaving them in the garden – do you like doing that?")  By this stage the fairy lover was actually sitting on the nannies's knee…We hired her!
6.     Ok, we know we said top 5, but there is a 6th…. At every step of the way trust your intuition and judgement.  If it doesn't feel right then it probably isn't, and frankly it's just not worth taking the risk.

Kate Christie and Tanya McVicar started Babysitters and More (BaM!) in 2010 out of their own needs as busy mums trying to juggle family life and full time careers. BaM can be found at http://www.babysittersandmore.com.au – and is dedicated to introducing busy people to the perfect Nannies, Babysitters, Cleaners, Tutors, Senior Carers & Companions, Pet sitters, Party helpers, House sitters & More!  BaM is a one stop shop where you can find all your home help need in an affordable, simple, efficient, trustworthy and stress-free way!