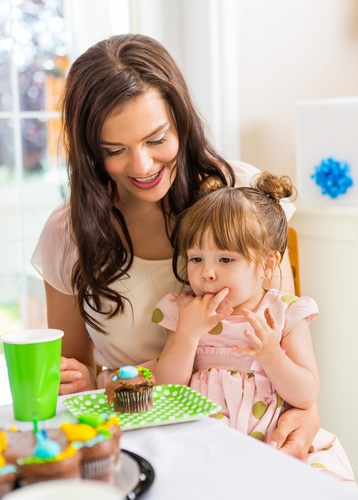 Have you ever started on a healthy eating plan and decided to cut out all of your favourite things such as chocolate, chips or biscuits?
Not only is this a very strict (and not much fun) way to live, it's also near on impossible.
Sure you might have the willpower to go without something you love for a week or two, but after a while the cravings can get the better of you and you might just find yourself diving headfirst in a bucket of ice cream and devouring the lot.
So how do you find a happy medium between eating whatever you like, and losing weight after pregnancy?
Follow our tips to find out how you can enjoy a treat while still losing pregnancy weight.
Watch your portion sizes
If you really fancy some fries while you are out for dinner, consider splitting a portion with a friend rather than ordering a whole side of chips for yourself. This way you can satisfy the craving without overdoing it.
Also you could be sure to order a healthy main meal so that you are not piling too much on your plate at one meal.
Remember that a treat is not for every day
Many of us get stuck in a bad habit of enjoying a treat after dinner, or with our afternoon cuppa – every day. A treat isn't a treat if you are having it all the time.
It's important that you learn to limit your treats so that, overall, you are mostly eating well (the old 80/20 rule).
Make it count
If you are going to enjoy a treat, make sure you choose something of good quality rather than going for quantity.
So if you love chocolate, treat yourself to some nice dark chocolate that you can enjoy without going overboard, rather than raiding the kids stash of easter eggs or other poorer quality chocolate that leaves you wanting more and more.
Cook your own versions of your favourite treats
If your favourite treat is something rich like chocolate cake, a great idea is to find a healthier version of it that you can make at home. This means you avoid the store bought cakes which are typically high in fat, sugar, calories and additives.
Why not try out one of healthy sweet treats here
You can also find loads of guilt free options in our Guilt Free Chocolate Treat & Baking Cookbook.
Don't keep too many treats at home
In a similar way to watching your portion sizes, it's also a good idea not to keep loads of treats in the house.
This way you can avoid the blow out (especially at certain times of the month) – it's a little bit of forced willpower.
Keep your total calories per day in check
If you are going to enjoy a special dessert or afternoon tea, be sure to keep that in mind when planning your other meals and snacks for the day.
For instance you might choose a lighter main meal for dinner if you know you're going to have a rich dessert; or make a salad for lunch instead of a sandwich or wrap to reduce your total calorie intake for the day.
Need some inspiration?
For loads of treat ideas that you can make yourself from healthier ingredients, check out our Guilt Free Chocolate Treat & Baking Cookbook. You can preview or order the book here.

GET YOUR 10% DISCOUNT
If you are ready to lose weight then the Lose Baby Weight plans offer a healthy and safe exercise and diet routine and you can get a 10% discount by using code LOYALTY at the checkout
PLUS our BEST SELLING 28 Day Diet & Exercise Plan is available as a 200pg Printed Book and you can get your copy here 
Plus our NEW CALORIE BIBLE is now available – get your copy today! Only $19.95 and a must have in your handbag!
Click HERE to see our shop