Losing pregnancy weight can be straight forward while following a healthy eating plan at home, however when the time comes to dine out at restaurants, cafes and pubs, things can get tricky.
Avoiding eating out is near impossible when there are always reasons to dine out cropping up – from birthday parties to family dinners and other celebrations, going to events like this is an important and enjoyable part of life that you don't have to miss out on.
In general, avoiding the bread basket, asking for sauces and dressings to be served on the side, moving the salt shaker to another table and not eating out at all-you-can-eat buffets is a great start whenever you are eating out.
The good news is that it's possible to eat healthily when dining out, if you navigate the menu carefully and choose cuisines that are naturally more healthy than others.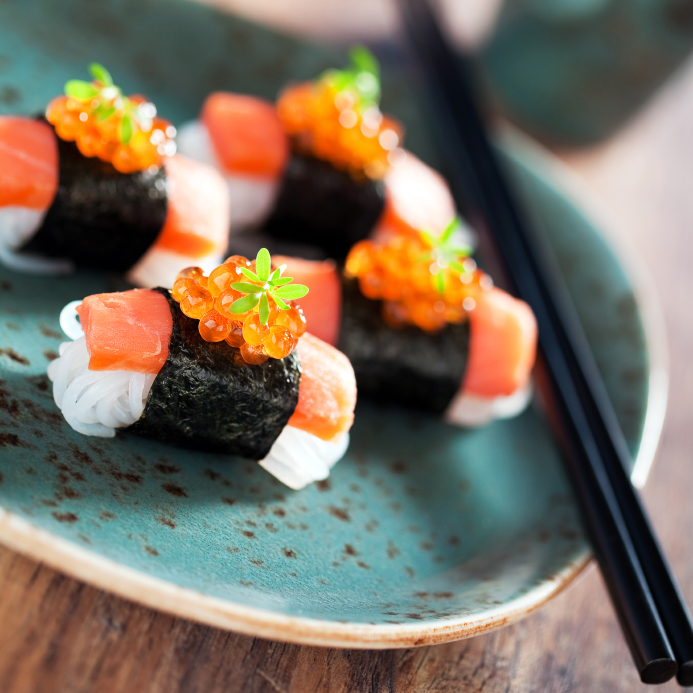 These cuisines offer a better range of low calorie, healthy food choices:
Japanese
Japanese restaurants naturally have loads of nutritious, low-calorie menu items to choose from. Stay away from any of the tempura (deep fried) menu options and stick to warming traditional miso soup, fresh omega-3 enriched sashimi, seaweed salad and sushi made with brown rice. Lay off adding too much extra soy sauce (which is high in salt) and you will find that you can enjoy a healthy, delicious meal without adding too many extra calories to your eating plan.
At the Pub
Pub menus are typically a minefield of calorie-laden foods, with deep-fried schnitzels, battered fish, hot chips and burgers taking prominence. If you look close enough there are plenty of ways to enjoy a nutritious meal at the pub. Opt for a lean cut of meat like grilled fish, steak or grilled chicken, and always opt for a side salad or steamed veggies. Most dishes come with a choice of sides, and hot chips or french fries may seem tempting, but the steamed greens or side salad are obviously better options. Ask for any salad dressing, sauces or condiments to be served on the side so you can control your consumption of them and lay off the tomato sauce bottle as tomato sauce is filled with sugar and salt.
Italian
While there are some high calorie menu items to be found in Italian restaurants, there are some good options for people wanting low calorie dishes. Skip the garlic bread and opt to start with a veggie-based minestrone soup, which is high in fibre and minerals. Pastas made with tomato-based sauces are better options than creamy pasta sauces like Boscaiola, and filling up on a side salad of fresh greens is a good way to stay full and avoid the temptation of the dessert menu. If dessert beckons, a tangy, fruit-based sorbet is a far better option than sugar and cream-laden desserts like tiramisu or cannoli.
Middle Eastern
Middle Eastern cuisine offers many light and nutritious menu options, with hummus, vegetable tagines, legume soups and lean meats being good options. The issue with Middle Eastern food is that it is typically served in banquet form, making portion control much harder. Make yourself accountable by finding out which dishes will be coming out during the banquet, allocating the food onto your plate and not adding more until you have eaten what is in front of you. It's easy to have a blow out if you're constantly picking at new dishes or heaping food on your plate mindlessly. Work out which dishes you plan to eat from the banquet and stick to it!
Vietnamese
Known for liberally using chilli and fresh herbs, Vietnamese cuisine has plenty of light and healthy options to choose from. Stay away from deep-fried spring rolls and opt for fresh, veggie-packed rice paper rolls instead. Beef pho is another good dish to choose as it's made with iron and protein-rich lean beef and metabolism-boosting chilli. Fill up on traditional Lotus or Jasmine tea instead of trying sugary Vietnamese Iced Coffee.
Indian
Stay away from creamy and oily curries like Butter Chicken and instead choose to order tandoor-style mains like Chicken Tikka which are cooked in a clay oven. Lentil Dhal is another great option as it's low in calories and high in fibre.  Naan bread is typically high in calories, so steer clear!
At Cafes
Eating brunch at cafes is one of life's simple pleasures, but can be dangerous for weight loss if you're not careful. When ordering breakfast items choose to have your eggs poached (instead of scrambled or fried) and replace unhealthy sides like bacon or hash browns with more nutritious sides like wilted spinach and mushrooms. When ordering drinks, avoid creamy lattes and calorie-laden hot chocolate and swap for herbal tea or black coffee. Stay away from pastries, croissants and muffins which are usually made with refined sugar and butter and try wholemeal or sourdough toast with avocado instead.
Chinese & Thai
An easy way to cut calories is to swap fried rice for steamed, and if brown rice is an option always take it! Steamed vegetarian dumplings are a much better option than fried, meat dumplings, while Spicy Tom Yum Soup is a tasty, filling low calorie, high protein choice. Opt to fill up on steamed greens like boy choy or broccoli instead of reaching for more rice.  For dessert, avoid dishes like fried ice-cream and enjoy a plate of fruit like watermelon and some green tea instead.
GET YOUR 10% DISCOUNT
If you are ready to lose weight then the Lose Baby Weight plans offer a healthy and safe exercise and diet routine and you can get a 10% discount by using code LOYALTY at the checkout
PLUS our BEST SELLING 28 Day Diet & Exercise Plan is available as a 200pg Printed Book and you can get your copy here 
Plus our NEW CALORIE BIBLE is now available – get your copy today! Only $19.95 and a must have in your handbag!
Click HERE to see our shop