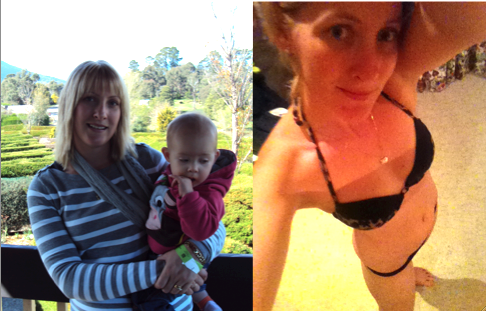 We have lots of questions asking for updates on mums who have already lost their pregnancy weight on the Lose Baby Weight plans – to see how they are going and if they maintained their pregnancy weight loss.
So we try and bring you as many updates as possible and you can see some past updates here from mums who have been on our pregnancy weight loss plans.
And this week we are delighted to bring you an update from the fabulous Elesha DeLuca who lost her pregnancy weight a few months ago on the Lose Baby Weight plans. 
Elesha's weight loss story
"When I had my little girl in august 2010 I put on 13kgs, I was at 73 kgs, when I have always been around 55 to 60kg the heaviest.
I tried personal trainers, the gym, starving myself and had no luck, I also got depression as I was feeling horrible about myself, until I came across Lose Baby Weight.
I straight away followed the easy diet, the smoothies and did exercise everywhere like you said.
I wanted to get down to 58 kgs when I emailed you before I go away on my long awaited honeymoon (been waiting 3 years) to Phuket with my gorgeous husband.
I am 58 kgs, feeling on top of the world and ready to go to Phuket and be in my bikini!!"
Elesha's Update (Oct 2012)
Q. How much did you lose in total on the Lose Baby Weight Plans?
A. [Elesha]  I think it was around 9 kgs
Q. What did you find most useful on the Lose Baby Weight Plans?
A.[Elesha]  The easy, yummy smoothies also how the work outs work around me and what I am doing in the house
Q. Did the plans change how you and your family eat food and exercise?
A.[Elesha]  We have always have eaten healthy. The kids love to do exercise with me
Q. Have you managed to keep the weight loss?
A.[Elesha]  Yes, well I go between 55 and 58kg
Q. Would you and have you recommended the plans to your friends?
A.[Elesha]  I recommend it to everyone!!
Q. Any tips you would like to give to other mums wanting to lose their pregnancy weight?
A[Elesha]  Get on board with the Lose Baby Weight Plans!
To see more fantastic weight loss stories from real mums click here
If you are ready to lose weight then the Lose Baby Weight plans offer a healthy and safe exercise and diet routine that are safe in breastfeeding

And don't forget to check out our current promotions and discounts page to see what specials we have on this week on our Healthy Mummy product range