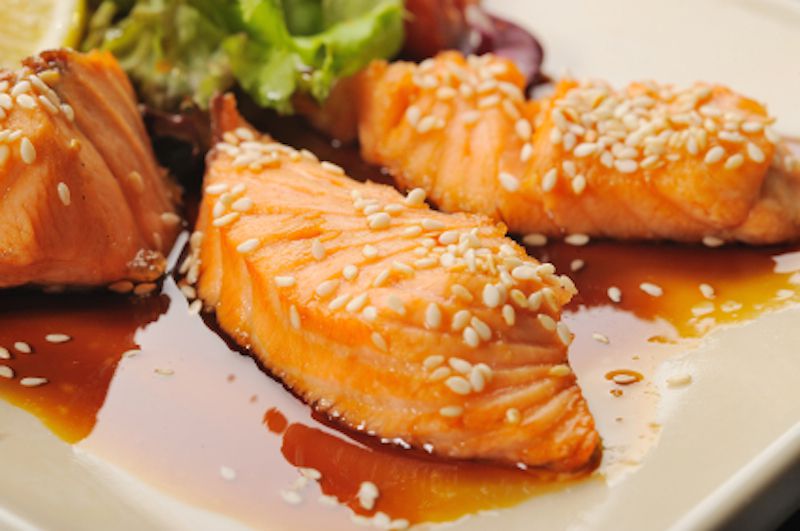 Here is a simple yet delicious dish that will be sure to be a hit with the family.
Instead of using packaged sauces or marinades, it's great to get into the habit of making your own.
This way you can leave out the additional sugars, salt or additives that can take a healthy meal to the other side.
This recipe calls for sake, which is a Japanese rice wine that is often used in Asian cooking. It is available from most Asian supermarkets.
This dish tastes great served with some steamed green beans, corn on the cob, asparagus or broccolini.
Ingredients:
1 cup of sake (Japanese Rice Wine)
½ cup soy sauce (try to find a low sodium brand)
1 tbsp freshly chopped ginger
2 tsp freshly minced garlic
1 tbsp honey
4 x 175g salmon fillets
4 tbsp toasted sesame seeds, to serve (optional)
Method:
Place your salmon fillets into a glass dish.
Prepare the marinade by combining the sake, soy sauce, ginger, garlic and honey in a bowl.
Reserve ¼ cup of the marinade and pour the rest over the salmon.
Cover and place in the fridge for 1 hour, spooning over the sauce twice during this time to ensure a good coating.
Heat your grill to high and then grill the salmon until cooked to your liking.
Serve onto plates and drizzle with the reserved marinade and sesame seeds if using.
Serves: 4. Calories per serve: 430.

GET YOUR 10% DISCOUNT
If you are ready to lose weight then the Lose Baby Weight plans offer a healthy and safe exercise and diet routine and you can get a 10% discount by using code LOYALTY at the checkout
PLUS our BEST SELLING 28 Day Diet & Exercise Plan is available as a 200pg Printed Book and you can get your copy here 
Plus our NEW CALORIE BIBLE is now available – get your copy today! Only $19.95 and a must have in your handbag!
Click HERE to see our shop