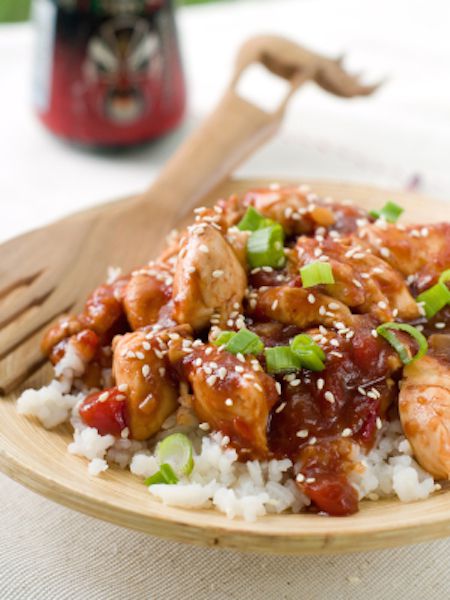 Here is a great family meal that might remind you of a good old fashioned Chinese take away.
This healthy eating recipe steers clear of packet sauces or marinades and uses store cupboard staples to deliver big flavours.
Serve it with a crispy salad and you've got a healthy meal ready to go that's perfect for when you are trying to lose weight.
As well as the salad you could also serve it with:
rice (brown rice is a healthy option if you have some)
wholegrain cous cous
quinoa
pita bread
wraps
You can also use chicken thighs, drumsticks or Marylands for this recipe, though you may need to adjust the cooking time accordingly and just double check that it is cooked through before serving.
Feel free also to add plenty of veggies to the tray when you are baking the chicken. Think sweet potato, onion, yellow squash, asparagus and zucchini.
Ingredients:
2 chicken breasts, cut into big chunks
4 tbsp soy sauce
4 tbsp Worcestershire sauce
4 tbsp honey
4 cloves garlic, peeled and finely diced
4 tbsp water
4 tsp toasted sesame seeds
2 green shallots, chopped, to serve
Method:
Place the chicken into a dish and add the soy sauce, Worcestershire sauce, garlic and water.
Allow to marinate for at least 45 minutes.
Heat your oven to 190C and line a tray with baking paper.
Place the marinated chicken onto the lined trays and bake for 15 minutes.
Remove from the oven and brush the chicken all over with half of the honey.
Bake for a further 15 minutes (or until golden and cooked through) and then baste again with the honey. Return to the oven if it is not yet cooked through.
Sprinkle the cooked chicken with the toasted sesame seeds and shallots and then serve.
Serves: 4. Calories per serve: 295 (no accompaniments).

Need to stock up on Healthy Mummy Smoothies? Then see our shop here
And join our 28 Day Weight Loss Challenges here