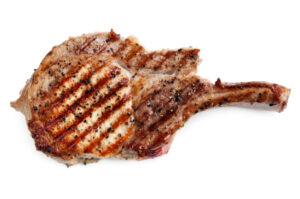 When it comes to eating for weight loss, it can sometimes feel as if the recipes that you need to cook are packed with loads of different ingredients that you might not already have, or that take longer than you have of an evening to cook.It's great to have a couple of quick and easy, family friendly meals up your sleeve to intersperse with some of the more adventurous or time consuming dishes you want to try.
Having a regular roster of healthy, weight loss friendly favourites means that coming up with a meal when you're in a hurry or running low on ingredients, is far easier.
When we are pressed for time, working with limited ingredients or dealing with a whole list of demands while trying to prepare a meal is when we're most likely to falter on our healthy eating diet and grab whatever is quickest or easiest.
This can sometimes mean takeaway or other high calorie convenience foods. Preempting this before it occurs by having something up your sleeve for even the craziest nights mean you can head this particular hurdle off at the pass.
This yummy pork recipe only requires five ingredients that you're likely to have living in your pantry and fridge. It's also low in calories and salt while being a healthy source of protein along with vitamins and minerals like thiamin, niacin, B6, B12, selenium, riboflavin and zinc. Pork is also a source of essential fatty acid omega-3, making this cut of meat a great choice for your plate.
This recipe uses lean pork cutlets but you could easily substitute other lean cuts like a pork fillet, steak or even loin chops for the same taste with roughly the same number of calories.
We served these pork cutlets with a green salad and some crusty wholemeal bread but you could serve the cutlets with anything from rice to cous cous.
Enjoy!
Ingredients
4 medium sized pork cutlets, excess fat removed
2 tbsp peanut oil
2 tbsp honey
2 tbsp Dijon mustard
1 tbsp olive oil
Directions
In a large bowl, combine pork, oil, honey and Dijon mustard in a large bowl.
Cover with cling film and allow to marinate for as long as possible.
When you are ready to start cooking, heat a large frypan, BBQ or grill plate to a medium heat.
Add olive oil (if required) and cook pork till cooked through.
Remove from heat, place on a plate and cover with foil for 5 minutes to continue cooking.
Serve with your choice of sides.
Makes 4 servings – Cal per serve – 490
GET YOUR 10% DISCOUNT
If you are ready to lose weight then the Lose Baby Weight plans offer a healthy and safe exercise and diet routine and you can get a 10% discount by using code LOYALTY at the checkout.
Click HERE to see our shop