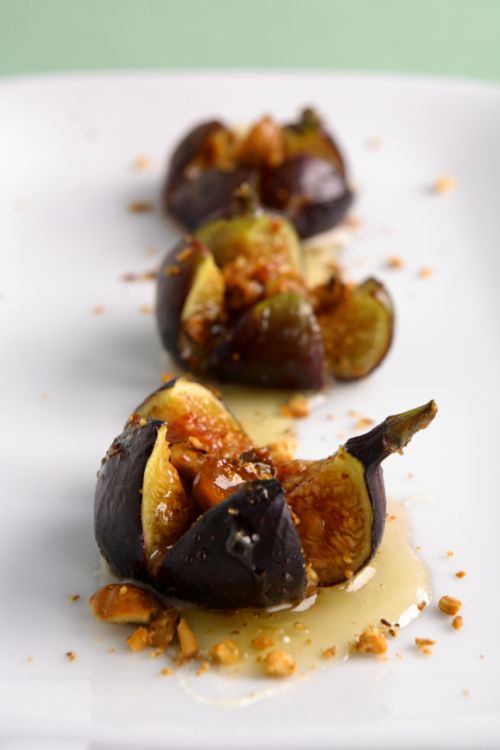 Although you'll need to modify your diet and approach to shopping and food preparation, there's always room for sweet treats when trying to lose pregnancy weight.
This recipe for Honey Baked Figs is a super simple, quick to prepare, warming dessert which can be included in your healthy eating plan.
Figs are a good source of fibre and potassium, and make a great dessert option because they are naturally sweet.
Made with only a few ingredients, this no-fuss recipe is a good one to try for a quick midweek dessert for the family, or as the last course when you're entertaining and short on time.
This is also a great dessert recipe to serve to people who are following dairy-free or wheat-free diets.
Ingredients:
8 large, fresh figs
2 tablespoons honey
1 quarter of a cup of hazelnuts, chopped
1 pinch cinnamon
Optional Extras:
Substitute the hazelnuts for macadamias, almonds or walnuts
Choose to serve alongside some reduced-fat Greek yoghurt or cottage cheese
Use maple syrup instead of honey
Method:
Preheat the oven to 190 degrees Celsius.
Slice the figs open both ways so that the figs are quartered but still intact.
Place the figs on a baking tray and drizzle a little honey on each of the figs, then lightly sprinkle each fig with some cinnamon.
Place half of the chopped nuts within the figs, keeping the rest of the chopped nuts for presentation.
Roast in the oven for 15 minutes, until the figs are golden brown and cooked.
After the figs have softened and cooked, remove from the oven and drizzle with a little more of the honey.
Top with the rest of the nuts and serve immediately while they are warm.
Serves 4. Calories per serve: 170



GET YOUR 10% DISCOUNT
If you are ready to lose weight then the Lose Baby Weight plans offer a healthy and safe exercise and diet routine and you can get a 10% discount by using code LOYALTY at the checkout
PLUS our BEST SELLING 28 Day Diet & Exercise Plan is available as a 200pg Printed Book and you can get your copy here 
Plus our NEW CALORIE BIBLE is now available – get your copy today! Only $19.95 and a must have in your handbag!
Click HERE to see our shop