Well, what a month it has been as a Motivating Mum! When I started November I thought I was into a good rhythm and I would just carry on as normal. Boy was I wrong! But I am very happy to say that my total weight loss using the Lose Baby Weight products is 21kg!
This month has been challenging, busy and emotional. I've been sick, been away on holidays, attended 4 weddings and very quickly moved into the pre-christmas party mayhem season! Phew! I've struggled with holding onto my 45 minutes a day I set aside to exercise and it seems every weekend I've been faced with party food and social occasions where it would be normal to consume an enormous number of calories in soft drink alone.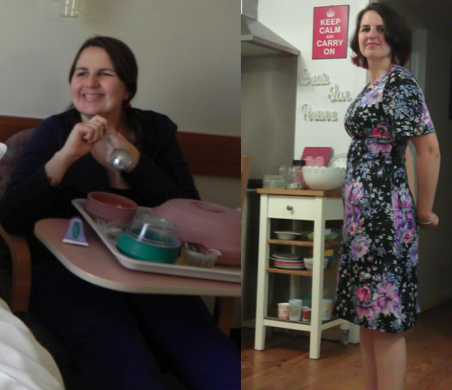 And you know, this life as a mummy is busy and tough! We have such little time for ourselves and what little we do get is so often prioritised far down the list below the needs of everyone else.
I even forget to drink water because I'm so busy making sure my kids do! I have to admit that towards the end of the month struggled to stay on track. On top of the mayhem I added in house renovations with laying carpet and painting my house, largely done by me alone with the 3 kiddies – now that's the definition of madness! l managed to stick to my healthy eating (I did struggle to keep up with eaing snacks as I was so busy and I certainly felt my loss of energy as a result!) but that's where I lost my time to exercise and realised how badly I missed it.
I've never been much into exercise. I'm one of those sadly uncoordinated people who looks gumby while running and can't catch a ball. For me to miss exercising is great! It helps me to realise that my goal of being fit is starting to become a reality!
Going into December I'm thoroughly proud to say that I am down to my last 3.5kg to lose!! I started the Lose Baby Weight & Healthy Mummy journey at 83.3kg and am now own to 62kg, giving me a 21.3kg loss.
I was too ashamed to even take a full photo of myself until I had lost the first 5kg. Perhaps it's a little nutty to attempt any further weight loss over Christmas but I believe that Lose Baby Weight is a lifestyle change and so it will be incorporated into my Christmas feasting.
I'm now back to my pre-pregnancy weight but not at my healthiest goal weight so the challenge is on! I need to be finding ways to keep myself motivated,especially during this tempting time, while also being realistic. I'm close to the end now so my weight loss is slowing down. I'm adjusting my expectations to be happy with anything up to 500gm a week loss.

And if I get more then hooray! I'm incorporating more vegies into my snacks rather than fruit and keeping my aim to consume whole, unprocessed foods both at home and out. You get out what you put in so I want good fuel going into my body. I have added a healthy mummy smoothie for breakfast as well as lunch and am using herbal tea/water as a replacement for milk in my lunch smoothie. I've challenged myself to create one new healthy mummy smoothie recipe a week so it keeps me interested.
There are so many great recipes on the website and plenty of really yummy ideas posted on the facebook page. Or I just come up with one on my own. I am still breastfeeding so I'm making sure I keep up my calories to feed my precious little one! I am also changing my expectations of exercise in this crazy busy month and planning exercising sessions 3-4 days per week instead of 6. I want to be able to enjoy this season with my kids instead of being anxious about working out and strict calorie counting.
But my family and I will be sticking to the 28 day diet plan and eating recipes from the website. I still haven't gotten through them all yet as there are so many amazing ones! Mostly my goal for these last couple of months is to feel fit and strong and to establish my family as a healthy eating family. I'm sure I can do it!
And the best part of all is that I'm now receiving so many compliments on how I look. Great ego boost! More than just losing weight, people are complimenting me on looking healthy. That's the greatest compliment of all.

GET YOUR 10% DISCOUNT
If you are ready to lose weight then the Lose Baby Weight plans offer a healthy and safe exercise and diet routine and you can get a 10% discount by using code LOYALTY at the checkout
PLUS our BEST SELLING 28 Day Diet & Exercise Plan is available and you can get your copy here 
Plus our NEW CALORIE BIBLE is now available – get your copy today! Only $19.95 and a must have in your handbag!
Click HERE to see our shop