Every month, a mum who is on the Lose Baby Weight plans will be writing about their journey, exercise, ups and downs and will be here to help motivate YOU and THEMSELVES along the way.
If you'd like to become our Motivating Mum for the month click here to find out more
Today, Motivating Mum Holly Herbig talks about her 16kg weight loss to date and becoming a Motivating Mum in November
Holly's Weight Loss
You know that feeling when you leave hospital after having your baby, when in your mind, you are so thin and light? In comparison to what you looked like when you came into hospital, you are tiny!  I love that feeling. Though after my third baby was born in July this year, my lightness was short lived.
I lost 4kg when he was born and thought "This will be easy, I've done it twice before" but within 5 weeks I had gained it all back. Suddenly I was back to my heaviest pregnancy weight (out of all 3 pregnancies) and I desperately didn't want to be there. I'd just had my third caesarian in 4 years and I felt trapped by my poor body. I had lovely friends and family who told me not to worry, it would all "drop off" and I should just wait 6 months before thinking about it.
But I had a distinct moment hopping into the shower one morning where I caught my reflection in the shower screen and thought, "Oh no Holly, what have you done to yourself?" I looked nothing like myself any more. I felt lethargic, depressed and I felt as though I noticed every one of those 25 extra kilos I was carrying.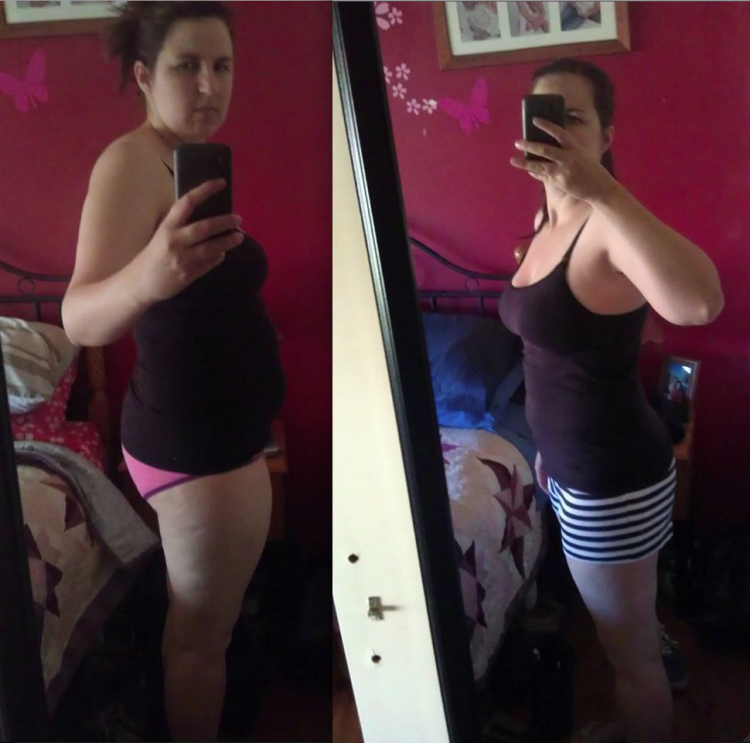 The following week I happened to see Lose Baby Weight on my Facebook feed. I'm a nurse, with a very analytical brain that is focused on being careful of what you put into your body – especially with a newborn baby when you're breastfeeding! But I felt really confident with the research I did on Lose Baby Weight and signed up.
Thank goodness I did!! I eased myself into it with just one healthy meal a day. I followed it a week later with a 30 minute walk each day. I bought the Healthy Mummy Smoothie mix and started having one for lunch. What a godsend that is!
By the time lunch rolls around and I've fed my 4 year old, 3 year old and newborn, I run out of time and energy to make something for myself and often go without. Now I have a Healthy Mummy Smoothie every lunch and I truly love it! It gets me over the 2pm hump and I have energy for the afternoon.
After a few weeks I noticed the weight going down, but more importantly, I had so much more energy and I was in a great mood! I could get to the end of the day without having to collapse on the lounge for a rest. I could have conversation with my husband when he came home, pick up my son from preschool, make dinner, clean up, put the kids to bed, and still be coherent instead of comatose!
Eventually I added in more exercise, trying out different methods (despite my best efforts, early mornings are STILL not my greatest time of day!) and involving my kids in it. We do walking, circuit training in the backyard, walk aerobics, dancing, sprinting races, at home DVDs and the Lose Baby Weight DVD (if you haven't tried that, DO! It's such a great workout! Squats are becoming my best friend).
They are so excited to do "exercises with Mummy". As I'd had another caesarian, I did careful and gentle physio exercises for my stomach and started to rapidly see results as my stomach muscles came back together. I started the 28 day-diet-exercise-plan and loved it. I realised that although I wasn't eating all bad foods, I wasn't eating enough food throughout the day. I needed more healthy calories.
I implemented dinners and breakfasts from the plan. The meals were so easy to prepare as it is all fresh! And we've discovered the joy of fish. Even my husband likes the meals – success! My kids are suddenly enthusiastic about all kinds of vegies like asparagus, zucchini, snow peas, capsicum and celery. They even like quinoa ("tiny rice"). I now get my fruit and vegies delivered from the markets fresh every fortnight so I have a constant supply of really tasty, great produce. I don't even have to think about healthy eating – it's all there in my fridge!
I am gluten and lactose free as I have a severe intolerance, and I've found the 28 day-diet-exercise-plan so easy to adapt to that. With all the recipes on the website too, and the great email support from Lose Baby Weight, I haven't struggled for finding any ideas.
It hasn't all been smooth sailing. I've had some loving people trying to be helpful and kind in telling my to eat whatever I felt like and get to the weight loss later, but now that I've started, I feel so great. I just want to be able to play with my kids and enjoy it.
I'm so incredibly proud of myself and my efforts and can now say that I've lost 16kg! I started at 83kg, and in 13 weeks, am now down to 67kg. I feel great, have the best muscles I've ever had, including my stomach which looks better than I expected! I still have another 9 kg to lose but I'm so certain I can get there.
If you wonder about whether you can do it, stop doubting yourself! I'm no pro at exercise or healthy eating, I have such little time, but I've done it. Give it a go and see how it can improve how you feel about yourself.