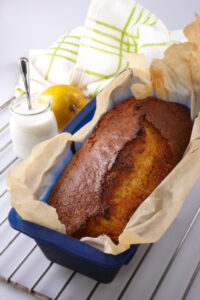 If there's two words you don't often hear together, they'd have to be 'healthy' and 'cake' or even 'weight loss friendly' and 'cake'. This is probably one of the main reasons so many 'diets' are such a struggle; deprivation and not being able to snack or eat delicious foods that we're really craving.
Luckily, Lose Baby Weight is NOT about deprivation and all about enjoying delicious, healthy food, and that even includes things like cakes and slices. Finding nutritious alternatives to some of your calorie laden old favourites is one of the best parts of a healthy eating and lifestyle overhaul. Learning to cook wholesome alternatives means you're able to enjoy a treat, without the usual guilt that comes with it.
This yummy yoghurt slice cake is perfect for morning or afternoon tea, or to take along to a picnic or baby shower, but is free from the usual nasties that make cakes so bad for the waist line, namely white sugar and processed white flour. Instead, this cake uses wholemeal flour (you could also you spelt if you have it to hand) and ingredients like honey, vanilla and cinnamon for all the sweetness, without the extra calories.
This slice is also packed with plenty of protein and calcium from the combination of natural yoghurt, nuts and eggs, making it ideal for breastfeeding mums who may feel their energy levels dropping during the afternoon.
While we used blanched almonds to add crunch, you could swap these out for your favourite nuts (walnuts would work well), or even up the sweetness with some fruit (fresh or dried).
Enjoy!
Ingredients
2 cups wholemeal self raising flour
3 eggs, beaten
125g of salt reduced butter or preferred spread, softened
1/2 cup honey
1/4 cup brown sugar
1 cup natural yoghurt
1/2 tsp baking soda
1/2 tsp cinnamon
1/2 tsp pure vanilla essence
1/4 cup blanched almonds, coarsely chopped
Directions
Preheat oven to 180C
Grease a square cake tin or baking dish and line the base and sides with non-stick baking paper
Beat butter and sugar together in a mixing bowl till combined
Add honey and eggs and continue to beat
Sift in flour, baking soda, cinnamon, vanilla and nuts and stir well
Fold in the yoghurt and beat till slightly fluffy
Spread mixture into your prepared tin or dish
Bake cake for approximately 30 minutes or until a skewer inserted into the centre comes out clean
Turn cake onto a wire rack to cool before serving
Makes 14 servings – Cal per serve – 200
GET YOUR 10% DISCOUNT
If you are ready to lose weight then the Lose Baby Weight plans offer a healthy and safe exercise and diet routine and you can get a 10% discount by using code LOYALTY at the checkout
Click HERE to see our shop