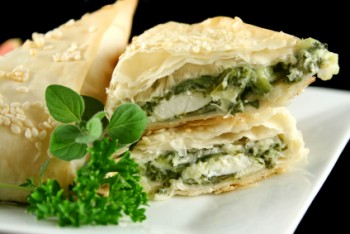 There are some ingredients that just seem to be made to go together. Spinach and cheese are two of them. There's something about that combination that equals mouthwatering yumminess. When you're trying to lose baby weight and follow a healthy eating plan, canapé type foods like these delicious morsels may seem like they should be off the menu.
While traditional spinach and cheese triangles may not be the healthiest option, with all that pastry, cheese and, at least in the case of the commercially prepared ones you find at the supermarkets, oodles of dubious additives, the homemade version actually ticks a whole bunch of 'good food' boxes.
To make these healthier versions of the traditional spinach and cheese pasties we've swapped standard puff pastry for the reduced fat variety, full fat ricotta and feta for the reduced fat versions and upped the veggie content. Stuffed with baby spinach, garlic, onion and the creamy cheese choices, these little parcels pack a vitamin and calcium punch.
They make a fantastic light lunch, served with a leafy green salad or a wonderful entree or canapé. My toddler is also a huge fan and is quite happy to demolish a couple for dinner. The finished product can also be frozen for up to three months.
Ingredients
3 sheets reduced fat puff pastry, cut into four square pieces (12 squares in total)

2 cups baby spinach leaves, rinsed
1 brown onion
2 cloves garlic
100g reduced fat ricotta cheese
100g reduced fat feta cheese
Juice from 1 lemon
1 tbsp of olive oil
1 egg, beaten
sea salt and black pepper
Directions
Pre-heat the oven to 180C
Place the spinach, onion and garlic into a food processor or blender.
Whizz to combine.
Heat the olive oil over a low/medium heat in a large frypan.
Add the spinach mixture and sauté gently.
When spinach has wilted, remove from the heat and place in a fine mesh sieve or colander to drain excess moisture.
Pour ricotta and feta into a large mixing bowl and add the drained spinach mixture.
Add in the lemon juice and season with the salt and pepper.
Using a clean work surface or cutting board, place a small amount of mixture into the middle of each pastry square.
Fold the end over to create a triangle and seal by pressing together with your fingers or a fork.
Lightly brush with the beaten egg mixture on each side then place on a baking paper lined baking tray.
Place into the oven and cook for 15-20 minutes or until golden brown.
Makes 12 triangles – Calories per triangle – 325