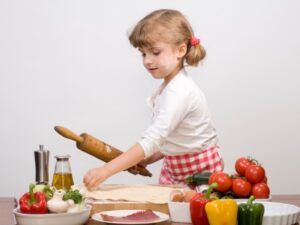 Kids love to cook but unfortunately many of the recipes aimed at kids involve high fat, high sugar and unhealthy recipes that lead to our children getting into unhealthy eating habits early on.
So where possible spend some time cooking with your little ones and getting them into the habit of making healthy foods – which will also be of huge health benefits to you and your family as well as ensuring everyone isn't putting weight on and will help you lose any pregnancy weight gain.
Banana and berry smoothie – 1 x frozen banana, 1 x handful of frozen blueberries or raspberries, 1 x frozen yoghurt (their favourite flavour), 150 ml of milk or fruit juice per person plus 5-6 ice cubes.  Blend all in a blender then serve with some fun accessories like a cocktail umbrella and a big straw.
Berry sorbet – 1 ¼ cups of water, 1 teaspoon of brown sugar, 1 ½ cups of thawed berries, 1 x cup of orange juice, 2 x tablespoons of lemon juice.  Blend all together then put back into the freezer into little pots or into balls.  Re freeze then serve with some blended raspberries which make a raspberry coulis.
Home made pizza – use a pitta bread pocket as a base and use tomato paste topped with fresh tomoatos, chopped up garlic, peppers, pineapple, prawns, parsely and low fat mozzerella to make a yummy alternative to a high fat pizza.  Get the kids to experiment with fun veggies and flavours they like.
Pineapple and veggie kebab sticks – Take a long kebab stick and get the kids to thread fun and colourful pieces of veggies and pineapple on the stick then grill for a few minutes on either side
Melon medley with raspberry sauce – take a melon ball scooper and scoop out lots of different melon balls from watermelon, honey dew melon, rock melon and papaya.  Then arrange in a large bowl or plate.  Then liquidise/blend a punnet of raspberries together into a coulis liquid and drizzle over the melon balls.



Hard boiled egg mice – Hard boil 4 eggs then set aside to cool, then peel.  Then take some fresh and long chives and insert them into the egg to be a mouses tail.  Then chop some black olives up and insert them into the egg to represent the mouse's tail.  Then cut a radish and insert into the egg to show the mouse's mouth.  Arrange on a plat with a low fat wedge of cheese in the middle of the plate
Oatmeal pancakes – take 2 eggs, 1 cup of whole wheat flour, 1 cup of rolled oats, 1 ½ tsp of baking powder, ½ tsp of salt, ¾ of a cup of orange juice and mix all together into a batter.  Then in a low fat oil cook the pancakes in a pan and when cooked sprinkle with chopped nuts, fruit and a dollop of low fat yoghurt.
Baked apple with raisons and honey – Take 4 large granny smith apples.  Core them then stuff them with raisons, honey and a sprinkle of cinnamon.  Then place in a cooking tray, cover with foil and cook for 30 minutes on a 200c heat.  For an extra treat add a dollop of low fat vanilla ice cream
Fruit crumble – chop up 4 x Granny Smith apples, 4 x sticks of rhubarb and 1 x punnet of berries and place in a pyrex dish and sprinkle with 1 tablespoon of brown sugar.  Then in a separate bowl mix 3 x tablespoons of whole wheat flour,  ½ cup of rolled oats. ¼ cup of chopped almonds, 2 tablespoons of brown sugar, ¼ tsp of ground cinnamon and 2 tablespoons of orange juice.  Mix up and add a little more juice if you need to.  Then sprinkle all over the fruit then cook in the oven for 45 minutes at approx 200c heat
Healthy snack bars – A good habit to get the kids into is eating healthy snacks like fruit, nuts and healthy snack bars – a snack bar  recipe you can make at home is :
1 cup of rolled oats
1 cup of desiccated coconut
3 x tbsp of chai or flax seeds
¼ cup of sunflower seeds
¼ cup of pumpkin seeds
1 cup of chopped dried apricots
¼ cup almonds
¼ cup of raisons
1/2 cup of honey
80g of low fat butter
Grease the baking pan and line with paper.  Then toast all of the oats and seeds in a pan then stir in the coconut.
In another pan combine the butter, honey and sugar over a medium heat and simmer for 6-7 minutes.  Then add the syrup to the rest of the ingredients – then also add in the apricots and raisons.  Then mix well and then transfer into the baking tin and transfer into the fridge to cool.  When cooled and firm cut into bars and pack into their lunch box