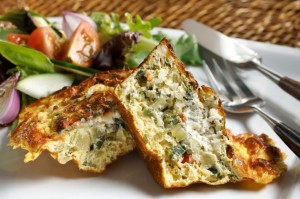 If you're looking for a healthy recipe that's ideal for the whole family (including the toddler), look no further than the quiche cup!
While your standard quiche is made in a larger sized dish, quiche cups are baked in a muffin tray, meaning they're perfect for both portion control (essential when trying to lose baby weight and follow a healthy eating plan) and for little hands and mouths.
Ideal as a nutritious dinner option, served with a yummy green salad or a quick, tasty lunch, these quiche cups are also a fantastic way to use up whatever you have lying around in the fridge. While we've used lean ham, spinach, zucchini and mushroom, you could substitute these for ingredients like lean bacon or even leftover poached chicken.
We've also made sure to pack these full of veggies to ensure you're getting your 5 a day in a yummy way. A variety of greens will work in this recipe, as will things like leek, red onion, pumpkin and even sweet potato.



To keep the calorie count down, we've eliminated the pastry but if you wanted to make these for a special event or similar, ready rolled puff or shortcrust would work well.
Enjoy!
Ingredients
6 eggs
1.5 cups skim milk
1 cup low fat tasty cheese, grated
1/4 cup fetta/goats or other cheese
4 slices of lean ham
1 cup of baby spinach leaves
1 cup zucchini, grated
1/2 cup mushrooms, roughly chopped
2 tbsps olive oil + olive oil spray or extra oil to grease muffin tins
1 tsp salt
1 tsp pepper
Directions
Preheat oven to 180c
Spray 2 x 6  muffin capacity tins with olive oil spray to grease or use regular olive oil and kitchen paper
Heat remaining olive oil over medium heat in a large saucepan
Add mushrooms and spinach and stir till spinach begins to wilt
Remove from heat and add zucchini while pan is still hot
Transfer veggies into a large bowl
Whisk eggs, milk, 3/4 of the cheese, salt and pepper together in a separate bowl
Add veggies to the egg mix and stir well
Divide mixture across the trays
Top with remaining cheese
Place in the oven to bake for 15 minutes or until firm and starting to turn golden on top
Makes 10-12 – Cal per serve – 150
GET YOUR 10% DISCOUNT



If you are ready to lose weight then the Healthy Mummy plans offer a healthy and safe exercise and diet routine and you can get a 10% discount by using code LOYALTY at the checkout PLUS our BEST SELLING 28 Day Diet & Exercise Plan is available as a 200pg Printed Book  
Click HERE to see our shop