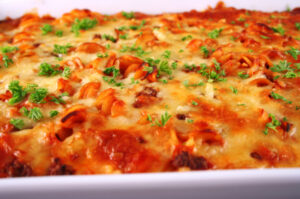 If there's a single food that really cops a beating when it comes to weight loss, it would have to be pasta. Whether it's spirals or sheets, spaghetti or linguine, this grain based staple is a much maligned part of the pantry.
Generally, this fear of the spiral/sheet/stick stems from the fact that pasta is pretty much all carbohydrate, and in the past, when very low carb diets were the flavour of the month and 'carb' was a dirty word, this put it well and truly on the 'not to be consumed' list. Thankfully, times have changed, with extremely low carb diets being thoroughly discredited by nutritionists and the relevant health associations, meaning pasta is back on the menu.
This is great news as pasta forms the base of a whole range of healthy, low calorie and most importantly, quick and family friendly meals. It's important to remember though that not all pasta is created equally, with some types having better nutritional value than others.
This is the same for what you top or put with your pasta. Creamy, high calorie sauces are not going to be your best option when trying to lose weight. The pasta itself may be a low calorie option but if you're smothering it in butter and a couple of different types of cheese, it ends up being a less than healthy meal.
To ensure that your pasta dish remains healthy, choose a tomato based sauce that's packed with extra veggies. Low fat cheese like ricotta or cottage make a great addition, without adding extra calories. This pasta bake uses tomato passata (sieved crushed tomato) as its base. Low in fat, salt and sugar and extremely high in the antioxidant lycopene, this bottled sauce is extremely versatile and a great, healthy option. Cottage cheese is added, along with herbs like basil to give lots of flavour and creaminess, without adding a bulk of extra calories.
Buckwheat pasta is also used in place of white of wholemeal varieties. Buckwheat pasta is made from the buckwheat seed, as opposed to from a grain, making it a great option for those following a gluten free diet. Buckwheat pasta varieties are also low GI, high in protein and a rich source of antioxidants. They are also (usually) less processed than their white contemporaries. You can find buckwheat pasta in the health food aisle of larger supermarket chains but if you are unable to locate a bag, wholemeal pasta works just as well.
Enjoy!
Ingredients
250g bag of buckwheat pasta spirals

500 ml tomato passata

2 cloves garlic, crushed

2 tbs olive oil

1 small onion, diced

1/3 cup low fat cottage cheese

1 cup fresh basil

1/2 cup cherry tomatoes

1/2 cup 

mozzarella

 cheese, grated

Directions
Preheat the oven to 180C

Cook the pasta according to packet instructions. Drain and set aside.

Place 1 tbs olive oil, garlic, cottage cheese and basil into a food processor.

Blend till a creamy paste is formed. Set aside

In a large saucepan, heat remaining olive oil over medium heat.

Add onion and cook, stirring till transparent.

Add the passata and turn the heat up to bring to the boil.

Once boiled, reduced heat, cover and allow to simmer for approx. 10 minutes or until sauce thickens slightly.

Once sauce has thickened, remove from heat.
Add pasta to the saucepan, followed by the cottage cheese/basil mix and stir well.
Tip contents of saucepan into a large casserole/baking dish.
Sprinkle with mozzarella and dot with cherry tomatoes and any remaining basil leaves.
Cook in the oven for 15 minutes or until cheese has melted and started to turn gold.
Serve with a salad or steamed veggies.
Makes 6 servings – Cal per serve – 237