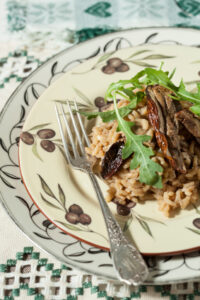 When it comes to rice based dishes, risotto can be a dirty word in diet circles. All that butter and less than healthy ingredients sounds like a recipe for calorie disaster, as opposed to a nutritionally balanced meal!
It's much the same when it comes to other 'no go' foods like burgers, pizza and creamy pasta dishes. While knowing the different between foods that are waistline friendly and those that pack a bit more a calorie punch is a good thing, dividing food into 'good' and 'bad' groups isn't always productive. By labelling something as 'bad', our brains, which seem to have similar traits to a stubborn toddler, are automatically drawn to it.
We've all had the experience of deleting a favourite food off our menu, only to fantasise about it for days on end and (usually) crack and end up eating double or triple the amount we would have consumed initially! So what do we do? Instead of taking foods off the menu entirely, learning to prepare them in a healthier and more nutritious way means that you can have your (metaphorical) cake and eat it too!
One of the best things about losing weight is the new skills that you learn along the way, and creating healthy alternatives to what would otherwise be deemed 'unhealthy' is one of the best.
This risotto recipe replaces butter with heart healthy olive oil and cuts down the cheese content by using strong and bitey parmesan, meaning you need less for the same amount of flavour.
The big selling point of this dish is the mushrooms. As well as being very low in calories, mushrooms are also a fantastic source of antioxidants and other body loving vitamins. Research has found that they are the only fruit or vegetable to produce vitamin D which we in turn ingest when we eat them. The humble mushy is also purported to have antibacterial and antiviral properties AND can help rev up your metabolism due to their high levels of B vitamins.
With a few small changes, this dish has not only cut down on the calories (less than 320 per serve), its also upped the health benefits.
Enjoy!
Ingredients
2 tbsp olive oil
250g mushrooms (smaller varieties are better), sliced
2 litres salt reduced vegetable stock
2 cups Arborio Risotto rice
2 tbsp grated parmesan cheese
1 clove of garlic, crushed
1 tbsp lemon juice
2 cups of rocket leaves, washed
1 cup of thyme leaves
Directions
Heat your stock in a large saucepan over a medium heat till it's gently simmering. Keep it on the hob to stay warm.
Heat the olive oil in a medium frypan over a medium heat.
Add the garlic and saute for a couple of minutes or until garlic starts to colour (but not burn).
Add the mushrooms and saute for 2-3 minutes.
Add the rice to the mix and stir to combine.
Slowly begin adding the warm stock to the frypan, one ladleful at a time. Do not add any more until the first ladleful is absorbed.
Allow to simmer until rice is tender (about 20 minutes).
Stir in the thyme leaves, lemon juice and parmesan then divide between four bowls.
Garnish with rocket leaves and serve.
Makes 4 serves – 302 calories per serve
If you are ready to lose weight then the Lose Baby Weight plans offer a healthy and safe exercise and diet routine.
And don't forget to check out our current promotions and discounts page to see what specials we have on this week on our Healthy Mummy product range