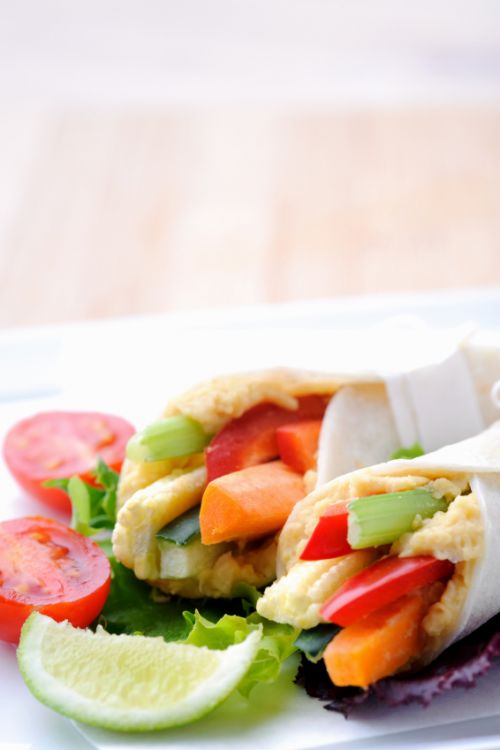 It's important to try new foods and menu options when losing pregnancy weight. By keeping things interesting you are giving yourself the best chance to stay true to your healthy eating plan.
Sometimes it's tempting to stick with sandwiches or toast for lunch, but with a little imagination and some forward planning, you can inject some fun and variety into your lunch time choices.
This recipe for Healthy Mini Vegie Wraps is a great one to keep up your sleeve when your inspiration is lagging. Perfect for little people, these vegie wraps are tasty, packed with fibre, vitamins and minerals, and are easy to whip up in a hurry.
Ingredients:
2 x mini tortilla wraps
2 x tablespoons of hummus
2 x small celery sticks
2 x small sticks of cucumber
2 x small carrot sticks
4 x strips of cut red capsicum
1 small segment of lime
1 cherry tomato, cut in half
2 x fresh baby corn pieces, halved
1 x large leaf of ice berg lettuce
Optional Extras:
Use green capsicum instead of red
Use avocado instead of hummus
Add some low-fat grated cheddar cheese
Add ricotta cheese instead of the hummus
Method:
Take your tortilla wraps and warm up in the microwave for 30 seconds
Smear each wrap with the hummus and then arrange the carrot, capsicum, cucumber, baby corn and celery within the wrap.
Serve alongside your lettuce, cherry tomatoes and lime, which is to be squeeze over your wrap as needed.
Serves: 1. Calories per serve: 254
GET YOUR 10% DISCOUNT
If you are ready to lose weight then the Lose Baby Weight plans offer a healthy and safe exercise and diet routine and you can get a 10% discount by using code LOYALTY at the checkout
PLUS our BEST SELLING 28 Day Diet & Exercise Plan is available as a 200pg Printed Book and you can get your copy here 
Plus our NEW CALORIE BIBLE is now available – get your copy today! Only $19.95 and a must have in your handbag!
Click HERE to see our shop