When you are trying to lose weight, one of the first things we suggest at Lose Baby Weight is to cut down on processed foods.
By cooking from scratch and using fresh produce as much as possible it helps us reduce the amount of calories, salt, sugar, fat, additives and preservatives in our diet.
Often you will find that commercial products – think pasta sauce, tinned soup, frozen dinners– contain some ingredients that you may not have even heard of.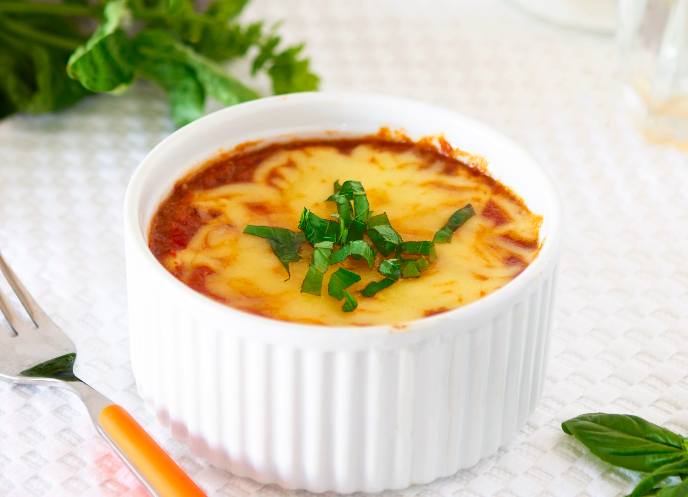 These products may have additives that help to lengthen their shelf life, or perhaps they have popped in some extra salt to make it taste better, added some sugar for extra sweetness, or a big glug of oil to keep the consistency right.
There is also a big difference in the calorie content between brands. For instance, the Coles Italian Tomato and Onion Pasta Sauce contains 33 calories per 100g. Compare that to Continental Creamy Bacon Carbonara Sauce which packs in 123 calories per 100g.
So while processed foods have their place, if you can reduce their use (by cooking from scratch) you can be well on your way to a healthier you.
Today we wanted to give you some options for cooking your own healthy pasta sauce from scratch. Not a bottle of pasta sauce in sight!
Tomato Pasta Sauce
Ingredients
6 ripe tomatoes (or you can use 2 x 400g tins of good quality diced tomatoes)
1 bulb of fresh garlic
2 red onions
2 small red chillis
2 tbsp olive oil
Salt and pepper, to taste
2 tbsp red wine
1 tbsp balsamic vinegar
Directions:
Preheat the oven to 200°C.
Cut the tomatoes and garlic bulb in half, quarter the red onions, and place on a baking tray with the whole chillis. If using tinned tomatoes, just add them at step 6.
Drizzle with olive oil and season well
Place in the oven for 30 minutes or until the tomatoes have softened and the garlic is soft to touch
Once cool enough to handle, take the garlic and squeeze all of the flesh out into a bowl.
Add the tomato, chilli, onion, wine and vinegar.
Whiz everything together with a stick blender until just combined.  Serve on top of your favourite pasta.
Recipe serves: 4. Calories per serve: 160
For a full healthy spaghetti Bolognese meal make some zucchini noodles…


Zucchini Noodles
Making zucchini noodles is simple if you have the right tools. Julienne peelers can be found at most homewares and department stores.
Ingredients
1 tbsp olive oil
1 large clove of garlic, crushed
3 large zucchinis
Method
Use a julienne peeler to peel the zucchini lengthwise. Do one side of the zucchini until you reach the seeds, then peel the other side (avoiding the seeds in the middle)
Bring a large saucepan of water to the boil, then add the zucchini noodles and boil briefly for about 30-60 seconds (check before removing the noodles from the water, the noodles should be firm and not too soft). Drain the noodles in a colander and set aside.
In another large frying pan or saucepan, heat 1 tablespoon of olive oil, and when hot gently saute the crushed garlic for a few minutes, until softened and fragrant. Add the noodles to the garlic and toss over low heat until coated in garlic and olive oil.
Serve with pasta sauce
Serves 4.