This might come as a surprise to lots of us, but popcorn can be used as a bit of a tactical weapon in weight loss: a cup of plain popcorn contains significant fibre, is low fat (when air popped) and contains antioxidants in the hull (the outer shell that gets stuck in your teeth!). But popcorn gets a bit of a bad rap – this light, healthy snack is usually disguised in an oversized bucket and doused in butter, caramel, salt or sugar. That's why Jennifer Lewin (@jenlewin2) has been chosen as today's instagram winner with her thyme and garlic recipe – her take on popcorn elevates it from forbidden treat to healthy snack using some elegant and guilt-free ingredients. And a healthy recipe like this is exactly what you need to complement the Lose Baby Weight plans and keep your snacks as healthy as your meals.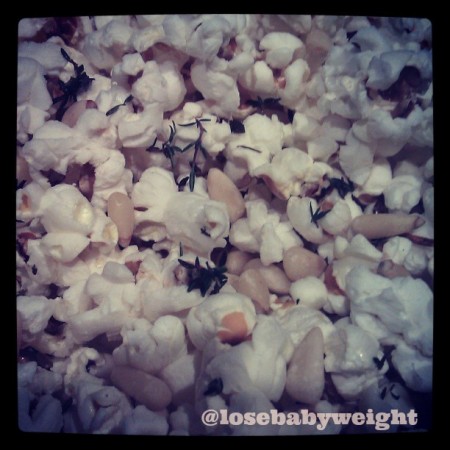 To make your own thyme and garlic popcorn, you'll need a bunch of fresh thyme, garlic, corn kernels, and olive oil. Heat a splash of olive oil and add 5-10 whole cloves of garlic (to taste). Add a couple of kernels to the oil and wait until they pop. Once they have popped, you can add 1/3 of a cup of kernels, and keep the pan moving regularly until the popping slows down. TIP: try to find a deep pan with a lid, otherwise you might lose it all to the kitchen floor, as the popcorn jumps wildly over the edge! Once popped, put the popcorn in an oven tray, and sprinkle the thyme leaves over the top. Season with salt to your taste, and bake in a moderate oven (130 degrees) for 40 minutes, mixing the popcorn every ten minutes. You can even add some pine nuts for some extra crunch, or add some lemon zest to the pan to give it some extra zing! If you don't have thyme, then rosemary is another fantastic substitute to try. And voila, you have a tasty, healthy snack that's great for keeping hunger at bay in between meals!
So congratulations to Jennifer Lewin (@jenlewin2), your healthy recipe for thyme and garlic popcorn caught our eye and is today's daily instagram winner! The Lose Baby Weight prize pack consisting of 1 x 28 day diet & exercise plan, 1 x healthy mummy smoothie and 1 x Tracy Anderson Mat Work out – all worth $100 is winging its way to you!
And there's still time to win – don't forget to enter for a chance to WIN THIS PRIZE PACK A DAY EVERY DAY in JUNE – by following us on Instagram – @losebabyweight and uploading your best healthy recipe photo to #losebabyweightrecipes T&C's are here.
PLUS don't forget we have our Winter Weight Loss Challenge on in June too – we have 15% off products and plans, $3,000 in Myer vouchers up for grabs and all the helps and support to help you lose weight this winter! Find out more here.